Kavaliro is proud to announce the sale of former Kavaliro startup company Fyre to Atlanta-based company Peoplenet. The sale of Fyre is a validation of the core values that Kavaliro strives towards every day.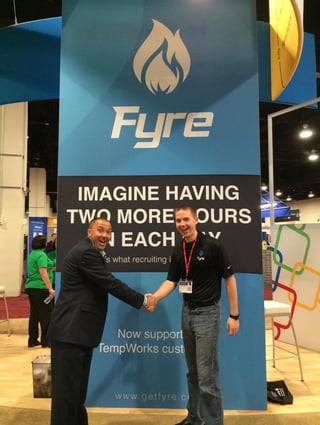 Tim Arnold (CEO of Fyre) started as a recruiter at Kavaliro after graduating from the University of Central Florida. He saw the need for an improved workflow process that could be achieved through technology. After presenting his idea to Kavaliro executives, he was given the tools and support to develop his idea.
"This is exactly the kind of opportunity that we encourage," said Bill Peppler, Managing Partner at Kavaliro, "Tim Arnold saw a need for a better solution and created an answer to solve it. We believe our strength as a company comes from a collaborative and open-minded environment where employees, clients, candidates, and consultants are all supported and empowered to succeed."
Peppler says the management team saw the advantages of the software immediately. "The only question was," according to Peppler, "Do we use this as a competitive advantage for Kavaliro, or invest in this idea and create a standalone business out of it? It was obviously such a great tool that we decided we should create a standalone company and product that anyone in our industry can use. It's one of our core values that we listen to our employees, and in this case, it created tremendous value for everyone."
"As a newer employee to the company, it is inspirational to hear the story of Fyre," said Kati Watson, Corporate Marketing Analyst at Kavaliro, "I like the fact that the upper management really listened to the ideas Tim Arnold had and that they took a risk on something they saw promise in."
"When you hire the best people," said John Mahony, COO of Kavaliro, "they have to understand that you will listen to them. That's not always easy. You can't just say one time, 'we want your ideas' and then let it go. You have to make that a part of the day-to-day culture of the company, and you have to continue to support it over time."
"We are excited by Peoplenet seeing the value of Fyre," said Mark Moore, President of Kavaliro, "but what's even more important to us is that Fyre and its staff will stay right here in Orlando. That was always a part of our consideration because keeping high-paying jobs in our area is critical to the growth and vitality of the city. And we fully expect that Fyre is going to continue to thrive, which will mean more jobs in the future."
The management at Kavaliro are proud of the sale of Fyre; it validates their commitment to listening to employees, valuing their input, and backing them with the maximum effort and support when necessary.
"At the end of the day," said Moore, "It proves that our company culture is working the way it has been designed to, that is very satisfying."