whats new at kavaliro?
It is a brand new year and we sure hope that your 2021 is off to a phenomenal start! 🔥 At Kavaliro, we are all pumped for the new year and each and every one of our team members has a full tank of energy that'll help us fuel our mission to serve our clients, consultants, and our community! Today, we want to share some of the latest and exciting updates so that you can see what we've got going on so far in 2021!
---
TOP BLOGS
---
2021 HAPPENINGS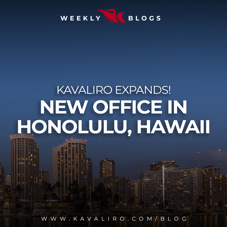 Kavaliro's Hawaii office
Kulia i ka nu'u, "Strive to reach the summit", is exactly what Kavaliro plans to do in 2021. One of our latest accomplishments is the opening of our newest office in Honolulu, Hawaii. The new office space is home to a talented team of individuals who serve the United States Indo-Pacific Command (USINDOPACOM).
Learn more at: https://blog.kavaliro.com/blog/kavaliro-hawaii-office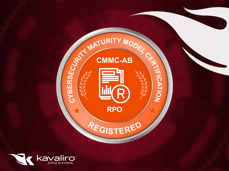 KAVALIRO CMMC RPO STATUS
We are proud to announce that Kavaliro is now recognized as a Registered Provider Organization (RPO) by the Cybersecurity Maturity Model Certification Accreditation Board. With this status, we are able to assist defense organizations in improving overall cybersecurity posture and security hygiene with one of Kavaliro's CMMC-AB Registered Practitioners (RP).
Learn more at: https://blog.kavaliro.com/blog/cmmc-rpo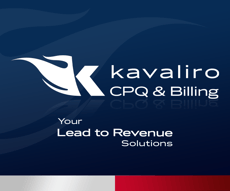 Kavaliro CPQ & BILLING
As we announced in our December newsletter, Kavaliro recently launched a CPQ & Billing Implementation and Advisory Services division. We are happy to report that our team has hit the ground running and the division is growing faster than expected! Since our last announcement, we've had 3 new additions to the Salesforce team.
To learn more about our CPQ & Billing services, please visit: https://kavaliro-billing.com
---
so many exciting things coming up in 2021: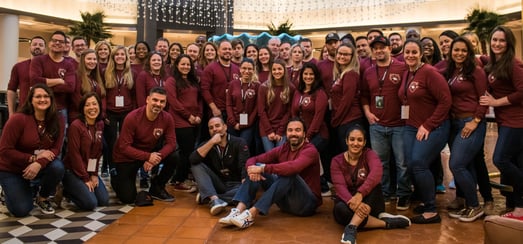 11th Annual Kavaliro Conference 🏆


Since our first year in business, Kavaliro has hosted a multi-day event for our internal team to get everyone pumped for the new year. This is a great time for us to bond as a team while working together to establish goals for 2021. Keep an eye out for this year's conference theme reveal in February!

9th annual Kick Off For Kids charity event 🏈




We are already planning on making the 9th annual KICK OFF FOR KIDS event the best one yet! This event is hosted by

Kavaliro

each year in order to raise

money for the backpack programs that help feed the children in Orange and Seminole county schools.

If you are interested in learning more about our charity work, please visit:

https://kickoffforkidsorlando.com


11th Kavaliro Anniversary 🎂
Kavaliro turns 11 this year! We are thrilled to be celebrating another year of business! Kavaliro has grown at a rapid pace and we are grateful for everyone that has been a part of this journey. We cannot wait to see what this year has in store for our team.


---

Guest speaker series:
Youtube playlist available now
The COVID-19 virus has affected the people of this world physically, financially, mentally, and emotionally. Kavaliro wanted to find a way to help our team members take their minds off for the pandemic and alleviate some of the stress, so we began inviting guest speakers to our weekly meetings and they quickly became a hit with our internal team.
From American motivational speaker and former college football player, Inky Johnson, who's life changed in 2006 after an injury that permanently paralyzed his right arm, to Best Selling Author, Jon Gordon, whose books have inspired millions of people to change their mindsets, the guests speakers would join us weekly and speak on various relevant topics.
We began sharing these videos on social media and we've realized that our audience has found these videos to be encouraging and valuable. We put together a playlist on YouTube to help you find all of our "Guest Speaker Series" videos in one place. We hope you take the time to watch some of these and that they make a positive impact on your life!
Click on video below to checkout the playlist:
Link to playlist: Kavaliro Guest Speaker Series
---

NEW JOBS AVAILABLE!
New jobs are constantly being added on our website! Browse some of our recent listings by clicking below.
---
Have you seen Kavaliro in the news?
Stay up-to-date with the latest news from Kavaliro on TV and online! Kavaliro has consistently been a source for hiring and employment trends this quarter, landing multiple segments on Orlando's FOX 35 WOFL. Kavaliro's expert commentary can also be found on national outlets such as BusinessNewsDaily and ZipRecruter.com. Check out a few local TV segments and articles below!
Online
TV
Kick Off For Kids- Greg Pearlman Board Chairman spoke on FOX 35 WOFL about the upcoming Kick Off For Kids event, that Kavaliro was the Title Sponsor of.
How To Get Recognized At Work- Louis Douglas speaks with FOX 35 WOFL about thinking outside the box on getting your next raise.