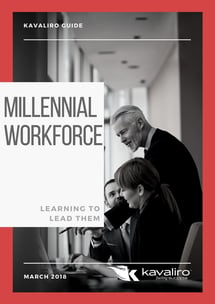 We recently just released our e-book on the 5 Keys to leading a millennial workforce, so we thought we would review some leadership traits that are important no matter what generation you are working with.
1. Solid handshakes and eye contact
First impressions matter and can go a long way towards growing your brand (check out our advice on interview outfits HERE). A firm handshake transmits confidence in yourself and your abilities. As a leader, it is essential to show your team you are a leader and know what you are doing. When meeting someone new, eye contact is not only a sign of respect but allows you to have a more commanding presence. Both a firm handshake and eye contact show how much of a leader you are by demonstrating your strength and confidence.
2. In person meetings
As a leader and manager, you are busy. Most individuals will understand that and be respectful of your time. With that said you should attempt to have as much face to face time as possible with your team, clients, and vendors. In person, meetings are a solid brand builder and can go a long way in building your reputation. Face to face meetings also provides you with a chance to read an individuals body language. As the boss, people do not always tell you what they mean/feel; meeting with individuals in person forces both parties to pay more attention and define their intentions. In person meetings also generate trust, and shows individuals that they are worth your time.
3. Hand-written Thank You notes
We have discussed this before in our blog, "How To Write The Perfect Thank You Letter After An Interview." The thank you note is a must for everything! Grabbed drinks with a potential client, write a thank you note; had an interview with a potential new hire, write a thank you note.
Here is a little story for you of a time a thank you note gained Kavaliro some business. One of our team members, Ron, met with a potential client and he knew it was a long shot. They had a quick coffee and discussed the managers needs and how Kavaliro Services could help. Sadly we didn't get the opportunity to work with the manager at that time. Fast forward roughly a year, and Ron gets a call from that same manager. Her boss had told her that they had an immediate need for a project team to come in and help. As she went to sit down at her desk she saw Ron's thank you note from their coffee and called him right that second. When she spoke with Ron, she mentioned that the thank you note was the reason she had called him. If you ask us, that single thank you note made writing the 1,000's of others that ended up in the trashcan worth it!
4. Sincerity in Conversation
Leading a team is never easy, you are always pulled in lots of directions all the time. During your one on one meetings with your team give them your undivided attention. Undivided meaning, do not respond or read emails, do not take phone calls, and do not text. Part of what got you into your leadership role is your ability to listen and respond. Ensure that you are using direct and sincere language that is clear and understandable.
Grab your copy of Leading a Millennial Workforce!