Written by: Kim Dvorscak | Director of Business Development
If you have not yet read part one of Working that Baby Bump- Pregnancy in the Work Place, I encourage you to or else the next two chapters will probably not make a lot of sense.
Chapter 3 - Growing…while Growing
Now the fun part! Everyone knows your pregnant, you are hopefully feeling better, and everyone wants to feed you! I would like to refer to this stage (some call it the second trimester) as the "enjoy it when you can" period. At this point, we decided to find out the sex, which was also really exciting to involve my work family in! Not that I condone gambling, but I let everyone place a bet on the baby's sex and rewarded the winners with pizza when we found out about our little girl! In truth, everyone (even those who voted "boy") ate it, but it was still a great time!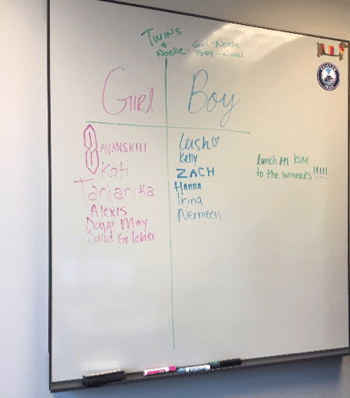 Advice for M2B: Grab some cute maternity clothes and embrace it! Tell your clients, most will be thrilled, and you will be shocked how much closer it brings you to some of them. You might even win some additional business! It's also a great ice breaker when working with new people. Everyone loves to talk about a baby on the way! During this period is when you are feeling your best and can really give work you're all. GROW your business while your baby GROWS!
Advice for C2B: This is when your preggo coworker is most approachable and able to give you her all! Don't hold back from telling her she looks great or bringing her a little treat now and then. It will go a long way. She needs your support and will give it back 10-fold. If you are like my awesome work family, you might start planning an office baby shower!
Chapter 4 – Don't drop the ball, only the belly
This is where I currently stand. Nine and a half months pregnant, belly dropping into position, miserable, uncomfortable and counting the days before go-time. At this point, I am past the point of giggles and joy and ready to get this show on the road. Fortunately, I have an amazing support system at work and home. A few weeks ago, my team threw me an awesome Fiesta themed Baby Shower!
Advice for M2B: In your 8th-month start laying the groundwork for who will pick up the pieces when you are on leave. Planning is not something you want to wait to do as you know you are no longer working on your timeline : ) Start the transition internally with your team and externally with clients/partners, so they don't have to worry about who to go to when you are enjoying your little one. Also, as you grow physically more uncomfortable, COMMUNICATE with your supervisor and doctor. Your employer may offer some accommodations like working from home or shortened days to help you stay productive. You won't know unless you ask! Lastly, have some fun with your due date! The underground gambling ring (KIDDING) continues in my office.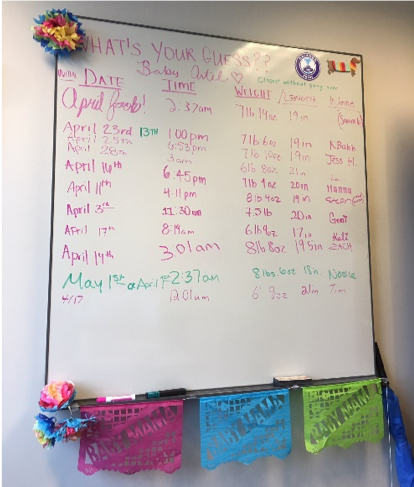 Advice for C2B: If there was ever a time to lay off…this is it! Obviously, business doesn't stop! However, think twice before reacting to a mistake or miscommunication by your preggo coworker. Baby brain is a real thing, have a laugh with her and allow her to make it right. Best utilize her time. Perhaps you can trade off on responsibilities and let her handle the more immediate items when you focus on the long-term goals. If she is planning on coming back to work, make sure to tread lightly as you don't want to insult your coworker by not including her in meetings or planning sessions…she will be back before you know it!
In closing, I want to sincerely thank my office family for the love and support over the last several months. It's been an incredible journey, and I know the best is yet to come when this "Kava-Baby" decides to make her debut.
Keep an eye out for updates…and the next chapters:
Chapter 5– I'm not sure I'm cut out for this
Chapter 6– Welcome back baby mama