I have been working for Kavaliro now for a little over two years and have learned a lot during my time here. One of the most valuable things I have learned, and that has made me successful is knowing how to work smarter, not harder. The marketing team asked me to share a few of my tips and tricks that others might find useful.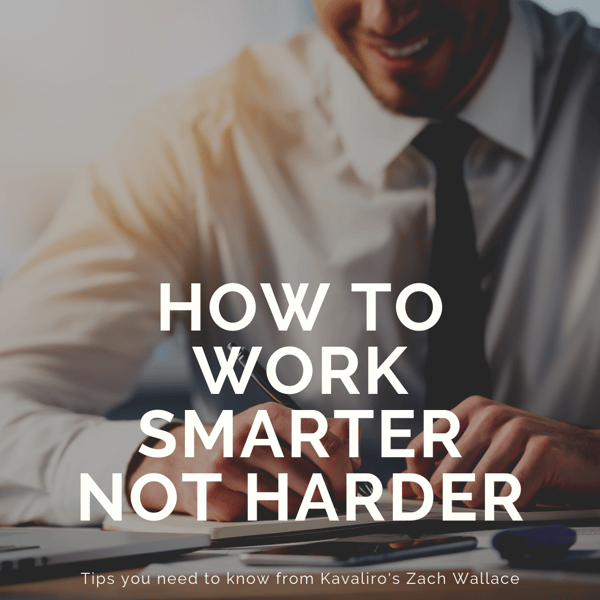 Also, be sure to customize each of the tips for your job and day to day work schedule. These things work well for me as a Resource Manager, but they might not be perfect for you.
1. Time Blocking
No matter what you are doing, you should be practicing time blocking. Schedule out hours each day to deal with specific tasks. Unless it is an emergency, it can wait until after your block is finished. I also find it useful to build time in between blocks that will allow me a grace period to grab water, take a walk, and answer a few emails. Working this way might not feel natural at first, but it will help keep you on task.
2. Hot Listing
If you are in a sales environment/recruiting, you need to be building a hotlist. A hotlist is a list of your hottest accounts, leads, or contractors. The goal of a hotlist is to be able to find the most promising sales opportunities easily. There are lots of different ways to build a tear sheet; some individuals schedule follow up reminders on their calendar. Some keep an excel spreadsheet, and I even know a few people who keep a list on paper. While your company CRM should contain all of this information, keeping a hotlist allows you to find your top 20 prospective clients quickly, and should help you with your follow up efforts.
3. Templating
Don't waste time typing the same things over and over again. A lot of technologies now a days will allow you to create template emails and template CRM messages. Most people only use this kind of thing for Out Of Office emails (we wrote a blog on that) but creating some quick use templates can be a huge time saver. For example, I send out a lot of interview confirmations; I have pre-built an interview confirmation for each of my clients, and then before I send them to my candidates, I fill in a few details and send it out. It helps me remember all the details my contractors need to know and saves me time typing the same message over and over again.
4. Meet Yourself
One of the essential tips I have is meeting your future self. It's so important to find someone that is the successful person you want to be. Within my first two months at Kavaliro, I was lucky enough to go out to lunch with three of our executives (Shout-out to John, Mark, and Bill). I was able to pick their brains, learn about their paths, and how they became successful. In whatever it is you are doing, make sure to learn from the best, and follow their lead. I know this is not a "trick" to working smarter not harder but finding the individuals at your company that you want to be like will help you avoid the failures that others have. For example one of the things I learned from the executive team in my first few months was that there are only two things you can control, your work ethic, and your attitude, if you control those things everything else will fall into place.
5. Have a Game Plan
At the end of every day spend 10-15 minutes planning out the next day (shout-out to my bosses Miguel and Rafael for this one). No matter what happens tomorrow, I at least have an idea of what I am going to accomplish. Most of the Kavaliro team works this way; it makes our mornings significantly more productive and ties up all the loose ends from the day before.
6. Goals Goals Goals
One of my biggest suggestions for working smarter, not harder is setting goals. A lot of people are unsuccessful in things like New Year resolutions or annual goals because they only see one big hurdle to jump, rather than taking it one step at a time. By setting small micro-goals, you will be significantly more driven, successful, and less likely to waste time. An example for me is I pushed myself to hit my annual goals in six-months; to do this, I had to hit my six-month target in three-months. To push up all of my goals, I had to set weekly goals and daily goals that would help move the needle every day. The best part of setting goals is that it pushes you to be hyper focussed and makes you hold your self accountable.
7. Break Up your Brain
Allow yourself breaks every few hours to clear your brain of work and focus on something else. Our marketing team wrote a blog a while ago called The Power of Working Away from your Desk, that I think everyone needs to read. At Kavaliro Orlando, our sales and recruiting try to set fun hourly goals. For the whole month of July, our goal was to do ten pushups or ten squats every hour, not only were we getting fit, but we were also strengthening our team bond.
Working smarter not harder is not always the little things you can do each day to speed up your week, more often it is about making shifts to your mentality and how you approach your goals and time. Best of luck to anyone trying to work smarter and feel free to reach out to me on LinkedIn.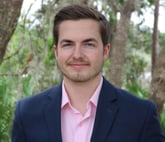 Zach Wallace
Account Manager
407-243-6006