Kavaliro was honored by the TechServe Alliance by being named one of the top Mid-Sized Enterprise Excellence Award Winners.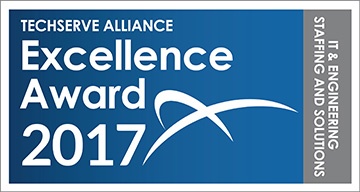 The TechServe Alliance 2017 Excellence Awards recognize IT staffing, engineering staffing and solutions firms that have demonstrated excellence through outstanding performance, team productivity and dedication to continuous improvement.
"To be included among the very best companies in the IT & Engineering Staffing Industry is an absolute honor. This award does not happen without the hundreds of dedicated team members, consultants, they truly make this type of recognition possible," said Bill Peppler, Managing Partner of Kavaliro.
Kavaliro is grateful to be recognized by the TechServe Alliance during the annual TechServe Alliance Conference held November 9-11, 2017 in Phoenix, AZ.
"Kavaliro is continually committed to the growth and ingenuity with in the services and solutions market space. This is the kind of award shows us as company leaders that we are moving forward in the right direction, and that our strategies for employee engagement, and client satisfaction are working," said Mark Moore, President of Kavaliro.