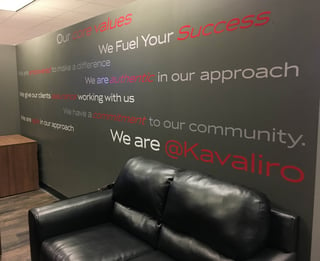 Moving is a pain. Moving your office while it is operational is even more of a challenge. Kavaliro in the past year or so has either- renovated or moved almost all of our offices. We did this to accommodate our growth as a staffing agency and as a commitment to our local markets. We are almost at the point of considering ourselves "moving experts". We ran into a lot of challenges but in the end, the work was worth it. Below are our top 5 things to keep in mind during a transition.
Things to keep in mind when moving:
1. Flexibility is important!
In the case of Kavaliro Charlotte- we ran into some major cabling issues. A contractor came in and cut our DSL line. So we came in the following day to find that we could not work due to a lack of internet. Our solution, forward our phones to our employee's cell phones and have them work remotely.
2. It WILL take longer than expected!
Look things happen, even when your plan seems perfect! The key here is to address whatever problems you may have as quickly as possible. In the case of Kavaliro Orlando, we found out at the last minute that our carpets were on back order for a week, but our desks were scheduled to arrive a week before. To combat the issues, we decided that once our new desks arrived our staff could work in them but not move all of their things back in. So that when the carpet arrived the installers just had to lift the desks up as they installed. No, it was not an ideal situation, but we found a solution that allowed for our renovations to continue while our IT consulting employees worked.
3. Communication is key.
Change can be difficult, especially for employees who are working while change is occurring. How do you ensure your employees maintain positive attitudes during construction? Give your employees as much notice as possible. We made sure that every day we sent out an email letting them know what would be happening the following day. We knew our kitchen would be out of commission for a countertop installation and that this would be an inconvenience. We ordered our employee's lunch, to combat the problem of not having a refrigerator and microwave available. The goal is to ensure things are as normal as possible for the employee. We also wanted to thank them for their understanding during the disruptions.
4. Don't wait until the last minute to make plans.
So, this one seems simple but when you are focused on scheduling, contractors and paint colors things can fall through the cracks. When we moved our Kavaliro Petaluma offices, we thought we had everything planned out. Well, we kind of forgot that once we got our new furniture in, we had to do something with the old stuff. We found ourselves scrambling at the last moment trying to sell it on Craig's List or to other offices in our building. It is a funny story now, but at the time it was a huge pain having two sets of desks and chairs in our employment firm.
5. Look long term.
Yes, moving/renovations are expensive, challenging, and feel never ending. Trust us when we say, it is so worth it! We now have modern offices, that our employees like working in. Work-life balance can be hard, so making improvements to your office really can make a difference in how your employees view their work experience.
Kavaliro tech staffing agency has offices in Tampa, Fla., Charlotte, N.C., Orlando, Fla., Washington, D.C., Jacksonville, Fla. and Petaluma, Ca. and can make sure you find the right people for any important role. We are ready and waiting to help you anytime and look forward to hearing from you. Be sure to check us out on Facebook and LinkedIn for more professional tips and tricks.