Want a job? In the era of technology and social media, it is a must to have a well branded and established linked in profile. So, we are dishing out our top secret best practices to get your intro section into tip-top shape. We are going to go section by section and point out the do's and don'ts of your profile and provide LOTS of examples!
Your Header:
You have to have a header photo; it shows that you have put time into setting up your profile and is a visual representation of your brand and interests! There are four types of LinkedIn header images that we recommend.
1. A company branded image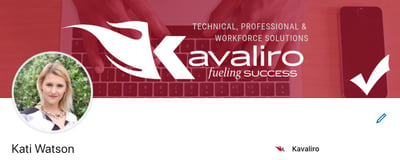 2. A recognizable landmark (where you live)

3. An event announcement

4. A pattern that encompasses you as a brand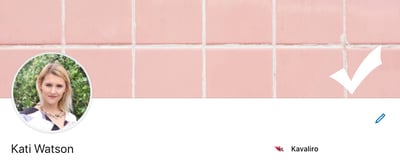 Don't use:
1. Family Photos

2. Sayings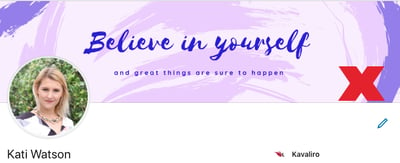 ---
Your Profile Picture:
Your profile picture should be a professional photo of you. Below are the basic expectations of what a LinkedIn photo should look like.
1. Only you should be in the frame
2. You should be on a solid color background (or texture).
3. The photo needs to be from the shoulders up
Don't use:
1. Please no selfies/mirror pictures

2. Don't take the photo in your car, at your desk, or in a bathroom

3. No cropped images

Pro Tips to take a quick headshot:
Have someone take a photo of you
Using a cell phone is fine, be sure to turn the phone horizontally
Stand in front of a solid background (or pattern)
Stand at a slight angle then turn your head and chest to the camera.
When you take the photo, try to use natural light (stand by a window or go outside).
Avoid shadows; make sure you stand with the light on your face, not behind you.
---
Your Intro Text:
Most of the information LinkedIn asks for is relatively simple! We recommend filling out ALL the fields (or as many as possible). You never know who went to the same university as you that you might be able to work with. Most of this information you should know, remember to keep things clean and simple.
Your Headline:
Your header on LinkedIn should be short and concise. This information appears when people search for you, so it is important to use keywords and get right to the point.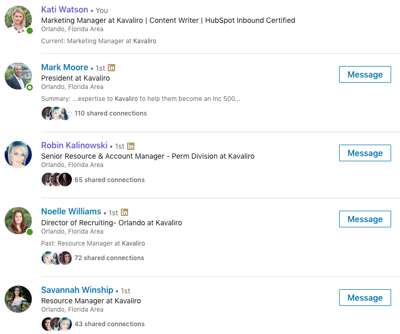 You should include:
1. Your title (your real title no attention grabbers like Chief Fun Officer)
2. Your company (this is a must if you are in sales)
3. Any certifications you may hold
It is essential to clearly identify yourself to anyone looking you up on LinkedIn or receiving an InMail from you. Like we have said twice already, keep this section short you are going to have an opportunity to show off your personality in the next section.
Please note, if you are currently unemployed, do not put that as your LinkedIn Headline! Recruiters and HR individuals often search by job title, if you are the worlds greatest Android Developer and your headline reads unemployed the likely hood of someone finding your profile is slim.


---
Your Summary:
Your summary section is one of the most critical parts of your profile. This will be one of the first chances you have to introduce yourself to visitors, so make sure it has personality but is clear. This is an excellent place to list information on your career so that hiring managers can find your profile (use keywords in your summary). We went ahead a wrote up three examples, to guide you as you write up your summary.
Example 1: Full Career Profile (with personality)
I am a people person who loves learning and growing. I have spent the past three years in the technical, professional and workforce solutions industry with Kavaliro. I started as their Corporate Marking Analyst and have grown with the company to become Kavaliro's Marketing Manager.
As part of my work with Kavaliro, I have produced ample amounts of content including blogs, social media copy, video copy, email content, and digital assets ranging from logos to full brand launches. I have also worked with Kavaliro to improve their internal onboarding processes, and building a brand image for our new hires, with a focus on putting the employee first.
Kavaliro has allowed me to support, Kick Off For Kids, a 501-c3. With Kick Off For Kids, I have produced the annual Kick-Off event to raise funds to help Central Florida Schools food pantries. With this rewarding work, I have been able to see Kick Off For Kids grow from support 13 schools to supporting 20.
I often find myself tinkering with all things social, and digital! In my spare time, I am usually freelance writing, working on my children's book series, or reading a good book. I love having the ability to be both creative and analytic at the same time and am always ready to talk marketing strategy. Feel free to reach out and chat or share success stories!
Example 2: Short Sweet & Descriptive
I have worked in the technical, professional and workforce solutions industry now for one full year at Kavaliro. I was drawn to recruiting about a year ago because I enjoy helping people; there is no better feeling than helping someone land their dream job and advance their career.
While I often recruit on a variety of positions, my primary focus is on finding .NET Developers, Cloud Engineers, and Android/IOS Developers. I have had the pleasure of placing 43 people in my first year as a Resource Manager with Kavaliro and cannot wait to help more individuals.
I am always will to assist with job searches, resume help, and interview tips. Feel free to send me a message and connect.
Example 3: The List
I am part of the Account Management team here at Kavaliro- one of the Inc. 5000 fastest growing companies. I specialize in helping clients solve their talent shortage problems by providing quick and relabel candidates.
During my tenure with Kavaliro I have:
- Increased profits by 25%
-Increased branch efficiency through the defining of workflows
- Provided incentives to my team that pushed them to hit KPI's
- Assisted over 100 clients to find the talent they needed in under three weeks.
-Had an average NPS of 9.3 on client reviews
If you are looking for more in-depth information on what to include in your LinkedIn summary check out this article, Tips for Writing a Great LinkedIn Summary With Examples, by The Balance.
After you have your profile in tip top shape reach out to us and we will be happy to chat about anything from finding you the perfect job to our tips for your profile.