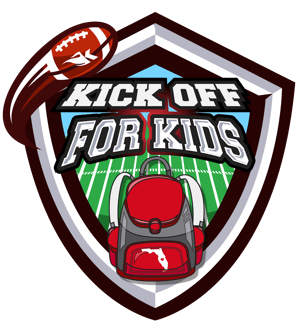 Back in 2011, Kavaliro started a quarterly food drive to help local public school food pantries and backpack programs. This program soon evolved into Kick Off for Kids (501-c3), a non-profit organization dedicated to ensuring all students have the proper nourishment to sustain the focus needed to achieve academic success. Kick Off For Kids purchases food on a quarterly basis with the funds raised at its annual event that coincides with the kick off of the NFL season. Since the first Kick Off For Kids event in 2013, President Lisa Moore has seen tremendous growth in the company. As of today, Kick Off For Kids has been able to provide 120,000lbs of food pounds of food and we are able to support 24 local public schools.
With the help of national sponsors, Kavaliro, and Round Table Resource Group, the Kick Off For Kids team successfully hosted the 9th annual "Kick Off For Kids" charity event on September 9, 2021. Families and local companies who opted in for a table at the event joined us for an fun-filled evening at Rock & Brews in Oviedo. The Rock & Brews team has been helping us in hosting this event at their venue for 7 years now and we wanted to show our appreciation to Tavo and his team with a custom Kick Off For Kids plaque.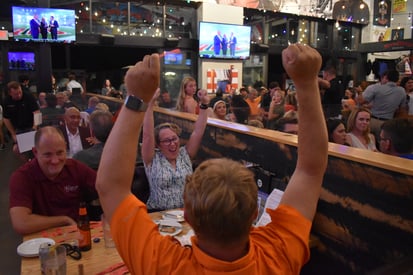 This year, we featured dozens of AMAZING raffle prizes. Baskets this year ranged from $100 to $1000 and lucky winners took home items such as custom KOFK fishing rods, thousands in gift cards, and even exclusive dinning experiences. After the raffle winners were announced, we transitioned to one of the most thrilling moments of the night, the KOFK Live Auction. For the second time in a row, we auctioned off a priceless WWE Weight Belt autographed by the legend, Hulk Hogan. This was a HOT item and competition was heavy! We also auctioned off an exclusive wine tasting experience and vineyard tour with winemaker, Peter Mathis, and a pair stunning hoop earrings from Bayhill Jewelers with dinner for 8 and a Mark 3 Whiskey Flight at The Hangry Bison.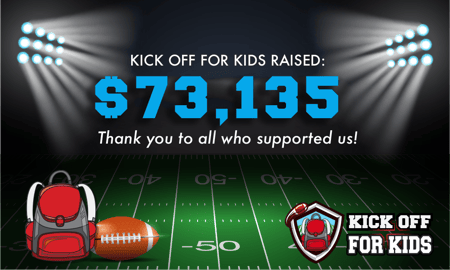 By the end of the night, we were able to raise $73,135! We are incredibly grateful who stood behind us to help us raise this money to purchase food and snacks for the backpack programs at 24 Central Florida schools. We could not have done this without your support!
If you would like to help support Kick Off For Kids and their efforts to feed those children throughout Orange and Seminole County, please visit www.KickOffForKidsOrlando.com. Any donations made go directly to those children most in need.
We hope to see you next year! To see photos of the event, please visit: 2021 Event Gallery