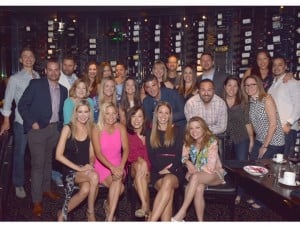 This year, Kavaliro continues its "work hard, play hard" philosophy by rewarding its top performers with the "Ring of Fire" trip – an all-expense paid getaway to Las Vegas. Samantha Mooney, Chris Baeten, Matt Rowles, Matt Herring, Josh Ridgeway, Sawlan Quant, Rebecca White, Suresh Raj, Natalie Castellana, and Rafael Restrepo were among the top performing employees invited on the trip.
"At Kavaliro, it is important for us to reward the team for all of their hard work to show we truly appreciate everything they do for us," says Mark Moore, president of Kavaliro. "We are extremely grateful and proud of everything this team has done and accomplished over the last year and beyond."
During the trip, the team was able to relax and enjoy time in the sun with one another at The Aria Hotel. On the first night, there was award ceremony paired with cocktails and drinks for the well-deserving group. On Friday, they were treated to dinner at a lavish steakhouse. They ended their trip on Saturday with a busy day at Club Liquid, celebrating at the largest cabana on property and ended the night watching the Absinthe Show. The team even had the opportunity to hang out with Flo Rida!
"It is truly an honor to be invited back on this trip for another year," says Natalie Castellana, financial operations associate at Kavaliro. "It was an amazing time, and I couldn't be happier to be a part of a team that shows so much appreciation for our hard work."
Feeling refreshed and rejuvenated, the Kavaliro crew returned from Vegas with a clear mind and appreciation for their place of work. The trip allowed staff members to bond, and it continues to push the entire company to produce their best work for 2016.
Kavaliro Employment Agency has offices in Tampa, Fla., Charlotte, N.C., Orlando, Fla., Washington, D.C., Jacksonville, Fla. and Petaluma, Ca. and can make sure you find the right people for any important role. We are ready and waiting to help you anytime and look forward to hearing from you.