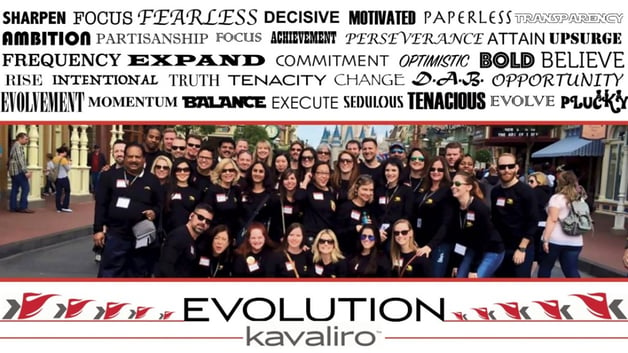 Each year, Kavaliro takes part in the challenge of selecting One Word to be the team's driving force for the upcoming year. The idea behind this experiment stems from Jon Gordon's concept of focusing on one word to create clarity, power, passion and change within a business. The Kavaliro team submitted multiple ideas for the company's One Word and ultimately chose to concentrate on the word "evolution."
By streamlining focus on one collective word, all six dimensions of your personal and business life are impacted – mental, physical, emotional, relational, spiritual and financial. This experiment was designed to move beyond the cycle on consistently trying to reverse a problematic behavior, and instead provide a solution. The process offers clarity by taking all of Kavaliro's big plans and narrowing them down into a single focus.
"Kavaliro tasks its employees each year with this challenge to see what we can focus on in our personal life, and as a company," said Bill Peppler, Managing Partner at Kavaliro. "My personal One Word for the year is 'decisive'. It reminds me to be as determined as possible throughout 2016. My definition of decisive is seeing an opportunity through definitive results, and I feel as though this parallels with what Kavaliro is doing this year with the ambitious goals we have set for ourselves in 2016"
Kavaliro's team word, evolution, is defined as the process of growing from one form or level to a better and/or higher level. By focusing on this word throughout the next year, Kavaliro will make progress within the company, the culture and the overall success of the business.
"I've had the privilege of working with Kavaliro for nearly three years," said David Gilcher, Lead Resource Manager for Kavaliro. "I chose 'evolution' for the team word because I've seen this team grow and change into something stronger than it has ever been before. We've adjusted to this ever-changing world to become a better company through what we do, how we do it and who is here driving that success."
Be sure to check out Jon Gordon's book, One Word That Will Change Your Life, for a guide to creating simplicity in your world and developing a discipline for life. The book also features Kavaliro!
What is your One Word for 2016? Share with us on social media!
IT Staffing - Kavaliro Employment Agency has offices in Tampa, Fla., Charlotte, N.C., Orlando, Fla., Washington, D.C., Jacksonville, Fla. and Petaluma, Ca. and can make sure you find the right people for any important role. We are ready and waiting to help you anytime and look forward to hearing from you.