Kavaliro officially launched our first Business Development Representative Class this past week! The BDR class will be working with our Business Development Team to help find and develop new relationships with those who need our services. We decided instead of talking about how awesome we think the BDR program and class is we would ask our new team members what they think.
What is it like to be part of a brand new program at Kavaliro?
Schylar Brooks: "It is exciting to be the maiden voyage of BDR Program at Kavaliro. The investment they have made in us and building the program shows the amount of trust they have made in me and the rest of class one."
Kurtis Mudre: "I find it awesome to be the first part of the push to become a $100 Million company. I can already see how Kavaliro is shifting, and I am excited to be a part of the program."
Claire Owen: "I am so motivated by this week! Seeing this program come to fruition and being a part of the first class, I can tell that the Kavaliro team has put a lot of thought into the BDR Program. Being a part of class one is overwhelming in a good way."
What do you want to see the BDR Program grow into?
Luis Contessa: "I want to see the BDR Program become the standard and not just the standard for Kavaliro. I know this program is going to grow into something that other companies will want to adopt."
Kurtis Mudre: "I see it becoming a part of the newest evolution of Kavaliro. Being part of the first class is awesome because as the program grows, we will have the opportunity to become mentors to the class to come."
Why did you decide to take a chance on joining the new BDR Program? Did you have any hesitations in choosing to join the program?
Robin Flores: "I had no hesitations in joining the Kavaliro Team or BDR Program. I instantly saw the growth opportunities that the program was going to offer, and that was ultimately what sold me on joining the team."
Zach Wallace: "I 100% believe in Kavaliro's leadership when they approached me with the opportunity to shift to the BDR Program I was more than willing to make the jump."
Nicole Mandes: "It seemed like there was a lot of potential in the BDR Program. I felt like there was going to be a lot of room for growth. I also knew I would be able to get the education I needed to reach my future goals. I also found the company and individuals I met with to be real and genuine."
What was the best part of your first week of training?
Kurtis Mudre: "The best part of my first week was getting to experience the Kavaliro culture, the first thing we did when we arrived, was attend a holiday potluck. I also can not believe that we got to meet the executive team on day one (name another company that does that)."
Nicole Mandes: "Getting to know everyone, was one of the best parts of my first week. I also was so excited to connect with every member of the BDR class, and learn a lot."
Robin Flores: "The structure and organization of the training program its self has been fantastic, I have never been through a program where I got this much training and had a support system like the one the BDR Program provides."
What do you personally want to accomplish within the program?
Zach Wallace: "I have always wanted to be in sales and help see a company grow, I have worked at Kavaliro in other capacities, and the BDR Program is going to help me achieve my goals of being an Account Manager. I feel like the company is helping me reach my goals."
Claire Owen: "I want to make a footprint in the growth of the company, I feel like the BDR Program is the first step on the moon, we are planting our flag, and are ready to succeed."
Schylar Brooks: "I want to be able to grow the Virginia office to the point where I am trusted to open up a new branch in another location, Kavaliro empowers their team members to develop, and I see the success of others. I feel like I can accomplish anything because the team here is giving me the tools I need to succeed."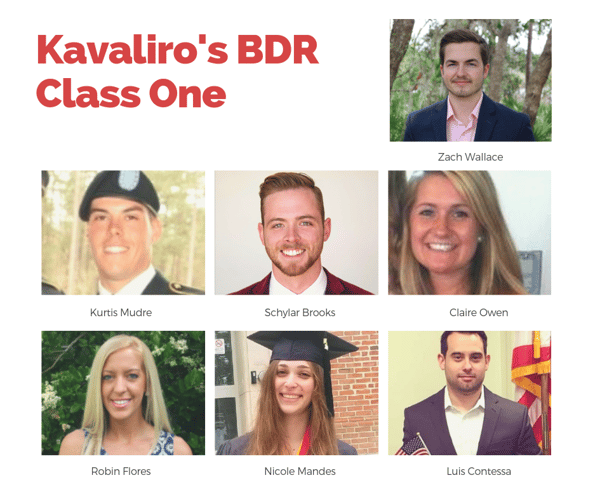 Kavaliro is thinking to our future, and we know we have to take risks and make a few gambles to be successful. The Kavaliro BDR Program is just one of the first steps we are taking, not only grow our business but also to better serve our current clients, contractors and internal team members.
We also wanted to take a second and give a big shout out to the team who put the whole program together. Kelly Babb and Miguel Boland have been the unwavering force behind launching the BDR Program. Without their vision and sleepless nights, none of this would have happened.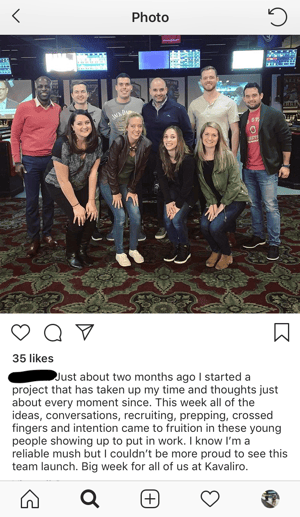 Kelly Babb said it perfectly in her most recent Instagram post "Just about two months ago I started a project that has taken up my time and thoughts just about every moment Since. This week all of the ideas, conversations, recruiting, prepping, crossed fingers and intention came to fruition in these young people showing up to put in work. I know I'm a reliable mush, but I couldn't be more proud to see this team launch. Big week for all of us at Kavaliro."