This past week our very own President, Mark Moore, received the Entrepreneurial Alumni Award by the University of Central Florida's College of Business and Administration. Moore was one of the three recipients of this award alongside Walter Robinson of Robinson Commercial Real Estate and Daniel Seeff of Say it with a Sock.
The award is given to former UCF graduates of the business school who exemplify commitment, vision, calculated risk-taking, and growth potential. In his professional careers, Moore has demonstrated perseverance in the face of adversity and continues to overcome obstacles in the field of the staffing industry.
"Our entire executive team is very proud of what Mark and the Kavaliro team have accomplished throughout the years," says Bill Peppler, managing partner at Kavaliro.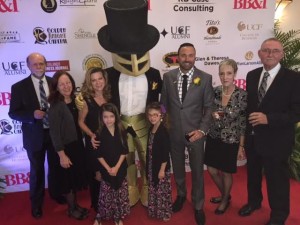 The University Of Central Florida College Of Business Administration held its 17th Annual Business Hall of Fame Banquet Thursday, February 25, 2016 at Rosen Shingle Creek. There were more than 500 attendees at the "Casino Royale"-themed event consisting of students, corporate partners, alumni, faculty and friends. Attendees gathered to celebrate the opening with a cocktail party, followed by the Business Hall of Fame Banquet and awards ceremony. The affair was complete with a red carpet, casino games and more!
Mark Moore graduated from UCF with a Bachelor of Science degree in Business Administration and has been tremendously passionate about the university ever since. As a supporter of the UCF College of Business, Moore also provides scholarships to hard-working, deserving students on behalf of Kavaliro. He attributes much of his success to the university and never thinks twice about giving back to the institution that gave him the foundation to succeed.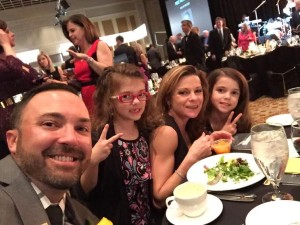 "It has been a genuine honor to receive this award from my alma mater," says Mark Moore, president of Kavaliro. "Without the help of my team at Kavaliro, none of this would have been possible."
We, at Kavaliro, could not be more proud of Mark and all that he does for the company, as he accepted this prestigious award with his wife, Lisa, and his two adorable daughters by his side.
Orlando Tech Staffing - Kavaliro Employment Agency has offices in Tampa, Fla., Charlotte, N.C., Orlando, Fla., Washington, D.C., Jacksonville, Fla. and Petaluma, Ca. and can make sure you find the right people for any important role. We are ready and waiting to help you anytime and look forward to hearing from you.