Kavaliro Makes Big Moves in Q2!
Kavaliro's Q2 Newsletter highlights all of the big moves, exciting changes, and awesome honors Kavaliro has worked to achieve. The team kicked off the year with their annual Ring of Fire trip to Mexico to recognize the top performing employees from 2013. The leadership team is always enthusiastic about rewarding hard work, and uses the rewards to continuously motivate employees to do their absolute best work.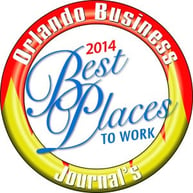 Kavaliro was so thrilled to be honored with several awards this quarter including the Jacksonville Business Journal's Diversity Awards with Rebecca White and the USPAACC's Asian American Business Awards. In Orlando, Kavaliro was overjoyed to be named the #1 Best Place to Work by the Orlando Business Journal! This is an honor that would not be made possible without the amazing team and clients that Kavaliro works with each day. To end the quarter strong, the company worked with Spry Group to launch the all new Kavaliro.com. The innovative new site gives job seekers and clients a much closer look into Kavaliro's unique company culture. With all of these exciting changes in the second quarter, Kavaliro is motivated and ready to achieve even bigger goals in the last part of 2014. Check out the Q2 Newsletter here!
Kavaliro Employment Agency has offices in Tampa, Fla., Charlotte, N.C., Orlando, Fla., Washington, D.C., and Jacksonville, Fla. and can make sure you find the right people for this important role. We are ready and waiting to help you anytime and look forward to hearing from you.