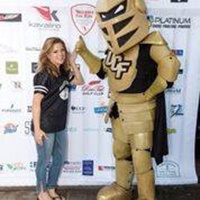 The Orlando Business Journal recently named Kavaliro as one of the top Philanthropic Companies in Central Florida. Before we go any further, we first have to say thank you. Thank you to our staff who volunteer their time to help their local communities. Thank you to those who donate and help support Kick Off For Kids, and lastly, thank you to Kavaliro's leadership who always lead by example. Commitment to our communities is one of Kavaliro's Core Values and without a team of staff who embrace this we would not be able to give back to the community's that give us so much. As the Holidays approach, we wanted to take a moment to reflect on the benefits of giving!
Why does Kavaliro Give?
Simple question right…. well not really. The obvious answer is because it is good to give. At Kavaliro we don't believe in just giving we believe in caring. We actively ask our employees what is important to them and empower them to be leaders for change. A perfect example is the Kavaliro Charlotte office, each year they walk in the Light the Night Walk to raise awareness and funds for the Leukemia and Lymphoma Society. No one in our corporate office told them that they had to support the Leukemia and Lymphoma Society. The Charlotte staff sat down and decided that finding a blood cancer cure was important to them and they set out to make a difference because they care.
How does Kavaliro Give?
Kavaliro donates in a plethora of ways though out the year. We contribute time to Kick Off For Kids, a 501c3 that was born out of the Kavaliro Corporate office. Each quarter the Kavaliro Orlando staff take carloads of food to 14 different Central Florida schools to support their food pantry programs. Our staff and leadership sit on various boards ranging from, The Boys and Girls Club to the Florida Hospital Children's Board. Kavaliro financially supports causes we believe in, and we encourage our employees to do the same. One of our staff is a huge animal lover and each year on the day she adopted her dog she makes a donation to the ASPCA. We also make it a point to recognize our team members for giving to organizations they are passionate about.
How we improve our giving?
At Kavaliro we believe in letting our employees lead the charge on what kind of volunteer programs they feel passion towards. We routinely walk/run for causes that are close to the hearts of our employees, as well as give our time to those in need. Being involved in our local community is one of the pillars of our company that we firmly stand by, by allowing our staff to lead our volunteer programs it allows our programs to grow in a meaningful way. We ask our employees at our annual conference what they would like to see our company accomplish within our philanthropic efforts, and every year we attempt to exceed the goals we set as a company.
Kavaliro is honored to be named by the Orlando Business Jornal as on of the top Philanthropic Companies in Central Florida. We want to hear from you, how does your business give? What kind of organizations do you give too? Is working for a company that gives back important for you? Let us know your thoughts on Twitter by using the hashtag "KavaliroGiving."
Kavaliro is a technology staffing agency that has offices in Tampa, Fla., Charlotte, N.C., Orlando, Fla., Washington, D.C., Jacksonville, Fla. and Petaluma, Ca. and can make sure you find the right people for any important role. We are ready and waiting to help you anytime and look forward to hearing from you. Be sure to check us out on Facebook and LinkedIn for more professional tips and tricks.