This past week, the Kavaliro team hosted it's 13th annual team conference at the Celeste Hotel in Orlando, FL. Over 100 team members from around the country gathered for a classy, "ALL-IN" casino themed event. The "ALL-IN" theme was chosen to symbolize everyone's commitment to putting in 110% effort in 2023. With a recent acquisition, teams expanding across the country, and new service offerings, Kavaliro is feeling LUCKY in 2023.
The 3-day conference commenced on February 8th with a welcome reception at the Celeste Hotel's "Endeavor Lawn". The evening was kicked off with the much anticipated award ceremony in which team members are recognized for their accomplishments and contributions.
This year's recognitions were:
5+: Year Tenure:

Travis McGrew, Hanna Howell, Miguel Roland and April Briggs

10+: Year Tenure: David Gilcher, Rebecca White and Noelle Williams
15+: Year Tenure: Stephanie Bruha
Firestarter Award (

Top rookie

): Corinne Gibney - Honorable mention: Chris Alex
Fueling our Clients Award (Awarded to the people who've done amazing work for clients):

Corrie Wanchena, Kishwar Alishan

Excellence in Assurance Award (Awarded to those who exceed expectations):

April Briggs, Heather Sosobee and Jasmine Scott - Honorable mentions: Hunter Sokmenseur, Karla Jimenez and Debbie Erskine

Knights Circle Award (GP over $500k): Kyle Qualizza & Kristina Sciortino

Fueling the Flame Award (Outstanding Back-office support):

Tim Davis, Kelly Babb, Irina Nimijan and Holly Novak

The Ring of Fire Award (GP over $650k):

Chris Regnery, Tommy Parker, Hanna Howell, Jessica Perri, Kim Dvorscak, Rebecca White, Rafael Restrepo and Noelle Williams.
Immediately after award ceremony, the team was surprised with a full-blown Casino Night inside of the Celeste's grand ballrooms. The guests were greeted with (8) casino-quality tables including Texas Hold 'Em, Blackjack, Craps, & Roulette. Those who were skilled or lucky enough to rack up chips had the opportunity to take home custom Kavaliro poker sets with the "ALL-IN" logo. Days later, team members continue to share that this casino event goes down as one of the best conference nights in Kavaliro history!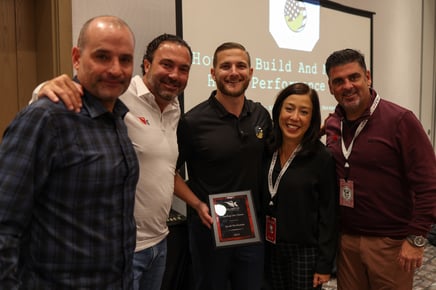 Day two of Conference was packed with trainings, state-of-business insights, goal setting and a panel session with our top producers. We then welcomed our guest speaker, Jacob Werksman, who is the founder and CEO of Victory Strategies, an elite leadership assessment and development firm. Jacob, who has gained years of experience in leadership and teamwork through his time as a Navy SEAL, shared his insights on the qualities that make up an excellent leader and imparted some knowledge on how to effectively build and maintain a high performing team.
To conclude day 2, the team took their talents to Blake Shelton's country bar and restaurant, Ole Red, for a "Texas Hold 'Em Dance Party". As you can see, Kavaliro did not disappoint with the attire. Nearly every single person showed up in their best country chic fit, and they had the time of their lives enjoying tender BBQ & sides, drinks and performing their well rehearsed line dances.
On the final day of Conference, all services divisions and branches broke off into groups to discuss what they aim to accomplish in 2023. They then shared those goals with the entire company for support and accountability. We also welcomed Jacob Icardi from our "Ace" sponsor company, OneDigital, a leading insurance, financial services and HR consulting advisory firm.
Before closing remarks, Kavaliro had one more surprised for the team. UCF Football's head coach, Gus Malzahn, joined us for an exciting Q&A session and answered several questions about his career, his teams & former player, and the future of UCF Football. After packing up, everyone headed over to PopStroke for a final hoorah before bidding each other farewell. As always, the final day of conference is bittersweet. After 3-days of in-person bonding and pure fun with the team members who live in other states, it's hard to say goodbye, but we look forward to an even greater conference next year.

I think we can all agree, this was the best Kavaliro conference yet and of course, we couldn't have made this event possible without the contributions from our wonderful sponsors: OneDigital, Sherweb, Exact Background Checks, Truist, Monster, ClearanceJobs, Indeed and Premier Business and Real Deal Desk. Thank you for fueling the our success!