The Kavaliro team recently hosted its 12th annual conference on February 9-11th at Universal's Loews Royal Pacific Resort in Orlando, FL. In recent years, the Conference event has been assigned themes such as "Protect the Special", a medieval knight theme encouraging everyone to continue protecting the culture and magic at Kavaliro, and "Mission 11: Take Flight", an outer space theme that primed our team for a successful lift-off in 2021.
This year, the conference was fitted with a Hawaiian theme surrounding the word "Lokahi", meaning unity and oneness. With our new lines of business, branches opening up in new cities, and team members working remotely from various states, we believe that UNITY is more important now than ever before at Kavaliro. No matter where we are or what lines of business we serve, we are still one team with one mission.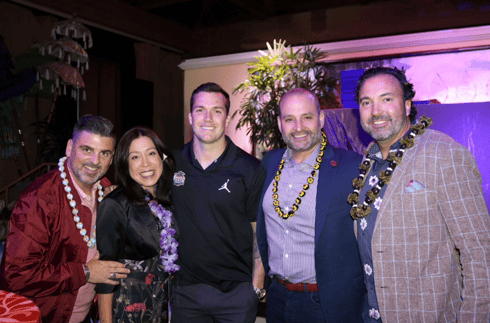 The Conference kicked off on February 9th with a luau at the Wantilan Pavilion. The highlight of the night was a guest appearance by the former UCF Quarterback and National Champion, McKenzie Milton. Milton, who is a Hawaiian native, shared his personal story of resilience and perseverance after his life-changing injury in 2018. After Mckenzie's moving story and words of inspiration, he tossed out signed UCF footballs during a Q&A session.
Later, the Executive team jumped on stage and dove right into the much anticipated award ceremony. Kavaliro now has 7 different award categories surrounding production levels and impact made on the company. This year, Kavaliro awarded the "Fire Starter" award to Angela Smith. In the category of "Excellence in Assurance", we were pleased to recognize Debbie Erskine., Karla Jimenez, Irina Nimijan, Holly Novak, Sabrina Rhoades, Leisha Samuels, and Corrie Wanchena. In the "Knights Circle" category, we recognized Tommy Parker and Kyle Qualizza.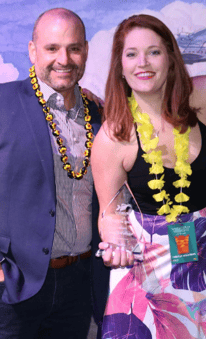 This year, we added a new awarded called "Fueling our Clients", to recognize the members of our organization who put their best foot forward for our clients. The recipients for this award were Andrew Hicks, Cam Orzech, and Ricardo Suescum. Another new category was "Most Improved Player", awarded to David Gilcher, for his immense growth over the years.
Next, we recognized Tim Davis, Kelly Babb, and April Briggs with the "Fueling our Flame" award. Finally, in the Ring of Fire category, awarded those who are the companies top producers, we proudly recognized Kim Dvorscak, Tim Harrington, Jessica Hixson, Hanna Jaddi, Kelly Jordan, Ron Murray, Rafael Restrepo, Kristina Sciortino, AJ Viale, Rebecca White, and Noelle Williams. With their trophies, the RoF winners also received one of a kind Kavaliro NFT's with their portraits and custom graphics. Both the "Fueling our Flame" and the "Ring of Fire" recipients have earned a ticket to this years Ring of Fire trip, an all-expenses paid trip to TRS Coral Resort in Cancun, Mexico.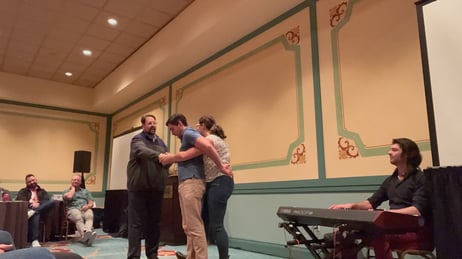 Day two of Conference was packed with trainings, team bonding and more fun. On this day, the Executive team reviewed Kavaliro's 2021 performance and shared our new goals for 2022. We then split off into group trainings, and had open discussions on how we can collaborate in the new year to ensure that those goals are accomplished.
Shortly after, the team had lunch and was surprised with an appearance from three comedians from Saks Comedy Lab, Orlando's best comedy club. Throughout the show, the comedians pulled team members on "stage", to be used as human props for their side-splitting skits!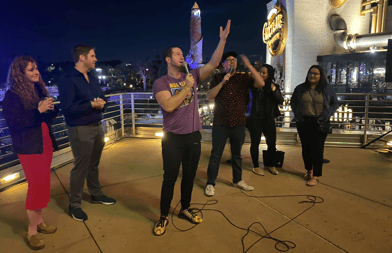 After the daytime meetings, the team headed back to their hotels and got ready for a night out at Universal's CityWalk. The evening began with a glamorous dinner on the balcony of Hard Rock Cafe, which overlooks all of CityWalk. Of course, dinner always needs a show, so Bill Peppler made sure to bring back our favorite freestyle rap duo, Free Daps, for an unforgettable rap battle show between Heath and Jordan. Kavaliro also had access to the John Lennon VIP room, which was stocked with artwork and items that once belonged to the late Beatles singer.
The team finished off the night at Citywalk's Rising Star, a karaoke venue where you can live out your rockstar fantasy thanks to the live band and backup singers. Several Kavaliro team members sang their favorite karaoke songs and we were all in shocked by the grammy-worthy performances from on our people!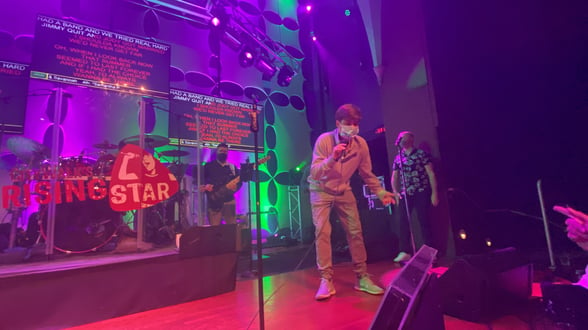 The final day of conference was bittersweet, as we had to pack up and say goodbye to one another. To close out Conference, each Divisions broke off into groups and discussed what they wanted to accomplish in 2022. Each group then presented their goals with the entire company for support and accountability. After that, everyone headed to Andretti Indoor Karting & Games for a few final hours of team fun. We bowled, raced go-carts, battled each other in laser tag, and then said our goodbyes.

I think we can all agree, this was the best Kavaliro conference yet. We hope that you, our wonderful reader, may even consider joining our team and getting the chance to experience the Kavaliro culture with us someday. Of course, we couldn't have made this event possible without the contributions from our wonderful sponsors, Truist, Monster, Bullhorn, Indeed and Kaseya. Thank you for fueling the our success!
See you all at next year's conference!