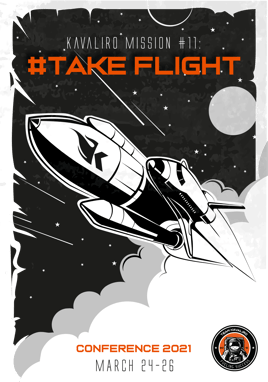 The Kavaliro Team hosted their annual conference on March 24-26th at the brand new Celeste Hotel on the University of Central Florida campus. This years theme, "Take Flight", was symbolic for our team. After the events and challenges that plagued our world in 2020, we are now geared for a successful "lift off" in 2021!🚀
Kavaliro has been hosting an annual conference since inception, and this one was "Mission #11". Team members from all over the country attended and we were all able to enjoy one of the best conferences yet!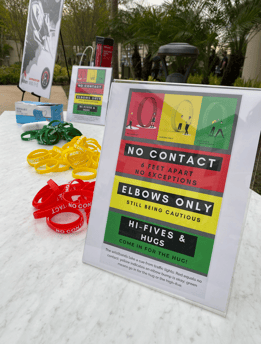 We feel fortunate to have the opportunity to host this week of events for our team, especially after month's of meeting with each other virtually due to COVID-19. The Conference planning crew took extra care and precaution to ensure everyone's safety throughout the events. This including hand sanitizing stations, disposable face masks and mask protocols, and they even added an extra layer of comfort with social distancing wrist bands. At the beginning of conference, all team members were instructed to grab a different colored wrist band based on their comfort levels. Red = no contact, yellow = elbows only, and green = come in for the hug!
---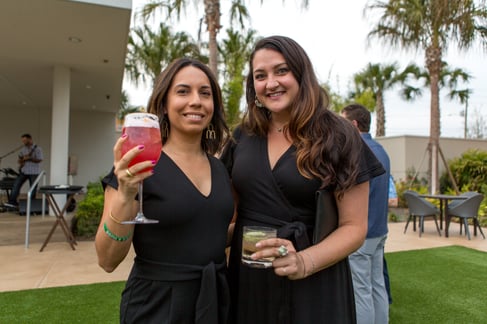 Conference 2021 was kicked off with a welcome reception at the Endeavor Event Lawn at the Celeste Hotel. After a few hours of mingling and reconnecting over delicious jerk alligator empanadas and custom space themed cocktails, the awards ceremony began.
This year, we had several team members, both old and new, who were recognized for going above and beyond their roles in 2020. Kavaliro awarded the "Knights Circle" award, to Kelly Jordan and Ron Murray. In the category of "Excellence in Assurance" Kavaliro was pleased to recognize April Briggs, Lisa Perrault, and Karla Jimenez. We also awarded our "Fueling the Flame" awards to Tim Davis, Kelly Babb and Leisha Samuels. The Fire Starter Award is given to Emani Anderson, our rookie of the year. Then, of course, we honored our "Ring of Fire" award winners: Rafael Restrepo, Noelle Williams, Jessica Hixson, Tim Harrington, AJ Viale, Rebecca White, Hanna Jaddi, and Kim Dvorscak. The recipients of the Ring of Fire and Fueling the Flame awards will attend our Ring of Fire trip later this year.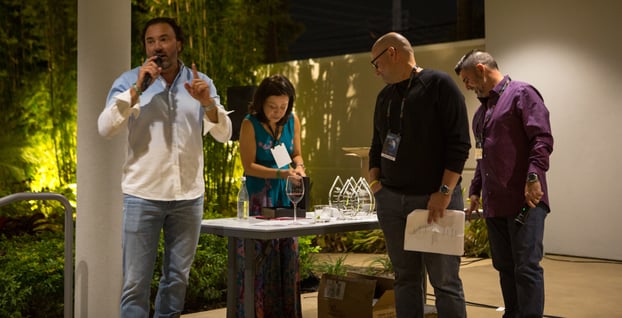 After the awards, the team was surprised with a performance by Free Daps, an Orlando-based rap collective specializing in freestyle rap, music, and comedy. Free Daps has performed at a previous Kavaliro conference and at Kavaliro's virtual 10th Anniversary Gala in 2020, so everyone was thrilled to experience their performance live once again!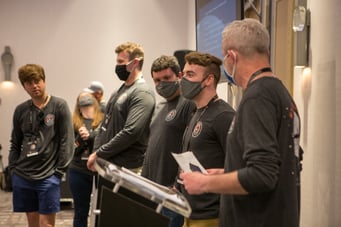 On day 2, Conference officially commenced. That morning, our team gathered to review our performance in 2020. Then, each branch/division broke off to develop personal and team goals for 2021. The divisional breakout session is a fantastic time for reflecting on what can be improved, and an excellent way to have everyone leave with the motivation to exceed our goals this new year. "Seeing everyone come together reminded me that we all have the same goal in mind. I am excited to witness everyone's success in 2021", said Gema N.
As the goal setting + team building portion of our day came to an end, our team went back to their rooms and prepared for a relaxing tour around Winter Park, FL with Scenic Boat Tours. The boat tour was unlike anything we've ever done at previous conferences. Our team was distributed amongst 4 boats, each with champagne and glasses ready for a toast to another successful year. After our tour, the team headed over to Cocina 214 Mexican Kitchen & Bar for a night of celebration!
Each year, Kavaliro finishes conference off with surprise event! This year, to fit with our theme, the Conference crew set up a visit to Kennedy Space Center in Cape Canaveral, FL. We were greeted by tour guides who walked us through different areas of the park while sharing information about NASA, launches, shuttles and the future of space exploration. Our team was able to see one of NASA's space shuttles, Space Shuttle Atlantis.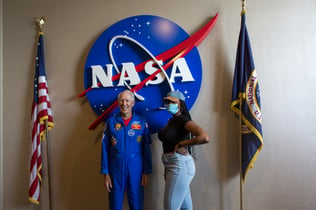 We were later dropped us off for a lunch & guest speaker event with former astronaut and test pilot, Bob Springer, who flew as a Mission Specialist on two NASA Space Shuttle missions in 1989 and 1990. "As a kid, I always thought astronauts were the coolest people on Earth (and outside of Earth)! During my time at Kavaliro, this has been the greatest surprise for me!" said Karla J.
As we all return home from conference, we find ourselves fired up to continue supporting our clients, consultants, and our community. We feel extremely fortunate to have been able to spend this time bonding with our team and we can't wait to see where "Mission #11" takes us!