We are proud to recognize Jasmine Scott as our September Employee of the Month!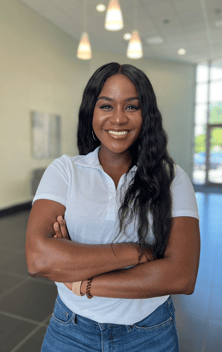 Jasmine joined our team in November of 2021 as Kavaliro's first Internal HR Coordinator, something she's very proud of!
Born and raised in Orlando, FL, Jasmine attended Seminole State College to pursue a degree in Sociology. She say's, "I knew I've always wanted to help people but in changing my major 5 times in college, I never knew how. I later discovered HR because a leader at my former company took a chance on me and granted me a role within compliance. In that role, I felt like I was thriving in building a relationship with candidates and it was nice to see them feel comfortable with sending me their documents. Over time, I missed working directly with people and wanted to do something beyond the documentation side, so I pursued a career in Human Resources."
Since joining Kavaliro, the team has noticed a positive shift in energy thanks to Jasmine's vibrant spirit. "Every day, I look forward to two things when coming to work. Checking for snacks in the break room, and catching up with Jasmine! It has been such nice experience working with someone as energetic, selfless and hilarious as her, and I feel blessed to have a friendship with Jasmine beyond the office", says Karla Jimenez, Marketing Manager.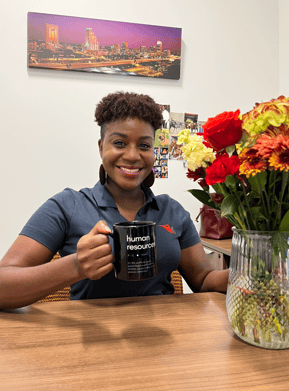 It is visible to everyone that Jasmine genuinely enjoys her role. She says, "My favorite part of being Kavaliro's internal HR Coordinator is the relationships I have built with the team here and feeling like I can serve as an ear and as a safe person that everyone can rely on. No doubt, I will have your back. I also love being able to accomplish the tasks and challenges that I'm faced with weekly. There have been several opportunities for growth at Kavaliro and I have learning that it's okay to not know something. This is an important lesson that I keep in mind because it serves as a reminder to allow myself grace through that learning process. I am constantly reminding myself that with HR, I'm human first and the resource second!"
Jasmine's goals within her role is to continue growing herself in this position and to eventually expand to have a team of HR Professionals, all while continuing to cultivate the already amazing culture Kavaliro has. We have no doubt that Jasmine will accomplish all of her goals and more!
"When we hire internally for Kavaliro we are always looking for people who subscribe to our core values. In hiring and getting to know Jasmine, we have somebody who embodies those values. She approaches her HR position with a true emphasis on the human element and the quality of her work motivates us all to do better." says Kelly Babb, Director of Talent Operations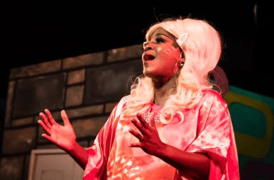 Jasmine is a proud wife to her husband, and a dog-mom to their rescued fur-baby, Ace Boogie. In the coming years, she'd like to expand her family by owning a miniature pig, which she plans to name Archiebold (Archie for short 🐷). Outside of her professional life, she loves cooking, discovering new brunch places, spending time with her closest friends, writing, reading, traveling and singing. In fact, she recently performed for the first time ever in a local production of "Hairspray" the musical, where she was casted as Motormouth Maybelle. Team members who attended the play were blown away by Jasmine's ability to sing, dance and act! Truly a triple threat.
Jasmine, you have been a catalyst for so much positive change and it's been wonderful having you on the team for nearly a year. We are grateful for your hardwork and for keeping us all in good spirits. Congrats on being our Employee of the Month! 🔥