The Power of a mentor is something that is not lost on me. I personally and professionally have benefited from having a mentor in my life. My father, William Peppler Sr. has been an amazing person for me to look up to and discuss just about anything you could think about. I have had many others over the course of my career who have made a lasting impact that will not be soon forgotten. When given the opportunity to grow, develop and become a mentor myself, I jumped at the chance. Two significant opportunities through the years that remain valuable to this day are the times I have had to mentor both Chris Alex and Noelle Williams. Both are leaders within Kavaliro and are helping take our Workforce Solutions practices to new heights.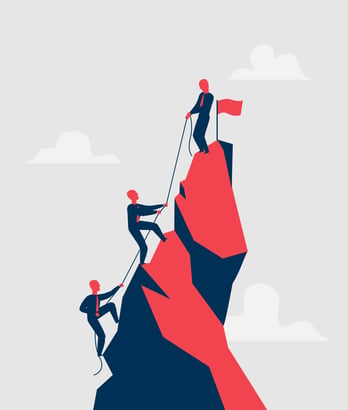 In general, mentors offer support, knowledge, and wisdom that help you navigate through challenges with ease. They believe in you and inspire you to reach new heights. With their guidance, you can discover your passions, develop your skills, and become the best version of yourself. Mentors create a special bond that makes you feel understood and valued. They share their experiences, give you honest feedback, and empower you to make smart choices. The remarkable thing about mentorship is that it doesn't stop with you—it continues to spread its magic as you pass on what you've learned to others.
The idea of a formal mentorship program came internally from Kavaliro employees. They voiced a need to connect with fellow employees in various branches. We were able to pair up senior recruiters with new hires that have joined our company within the past year, and the results have been immediate. It truly encouraged cross-office collaboration & relationship building. We intentionally paired recruiters from different offices so they could hear different perspectives throughout the mentorship.

Feedback from the mentees shows that they were encouraged to slow down & ask more questions thus developing a relationship with the candidate which allows them to keep candidates more engaged, and ultimately matched candidates with their perfect position. Time management & planning ahead was focused on as well since this job can change at a moment's notice, it was a good refresher to hear of how different recruiters manage their day-to-day.
We have heard from both the mentor & mentees that this program allowed for professional growth & confidence building, and some asked for the program to even be extended. The recruiters had someone that they could talk with weekly to gain different perspectives, learn new habits, lean on in tough weeks, navigate candidates and jobs, and learn how to become successful.
Here are some reflections from our team:
A quote from Sr Resource Manager, Angela Smith, was "I think the key to this program is if the mentee is wanting to make the change and that can be determined early on." Every person in this program raised their hand because they wanted to hone in on their skills & become a better recruiter to our clients & contractors.
Sr Resource Manager Brad Dedmon said, "As Hunter received guidance and support, he became more confident in his abilities and decision-making, which positively impacted his performance as a recruiter".

Sr Resource Manager, AJ Viale said, "I also challenged him to take on more Technical roles (vs Engineering) and fold those into his workday. His challenge to me was to take on some Engineering roles, which I am now doing now." This program not only helped the mentee, but the mentors to move outside of their comfort zone as well.

Sr Resource Manager, Nick Castaneda said "Even though I was listed down as the "mentor" for this project I did find myself learning quite a bit from my discussions with Marc. Watching his processes and how he structures meticulously his reach outs to candidates is something that I have started to incorporate into my own daily routine. I definitely recommend that this program continues for junior recruiters to use as an avenue to receive real-life/real-time on-the-job training and professional development tools in a more intimate setting."

Sr Resource Manager, Donovan Meeks said "With the short 12 weeks, I have seen how reliable he is and how often he can bounce back from tough issues. We went over key issues each week and I also tried to start each call as an open floor to tell me how his week was. He committed each week to growing and improving things we talked about"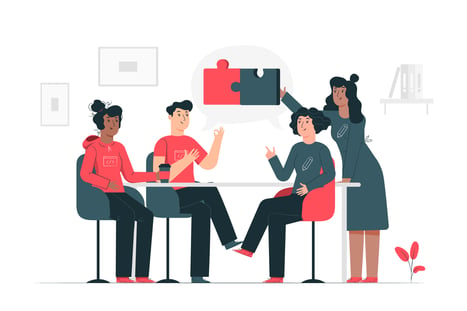 The benefits of having an internal mentorship program are plentiful. Firstly, it is a great way to create an environment of learning and team spirit. It encourages mentors to share their knowledge and expertise, while the mentees gain valuable insight into the industry. Secondly, it helps improve the performance of both mentor and mentee; the mentor's skills become more refined through teaching, and the mentee's understanding of the field increases through guidance and practice.
So how do you get started with an internal mentorship program?
Here are some tips:
Identify the right mentors. Look for employees who have shown they can be successful in their role and have the desire to help others.

Establish clear goals. Make sure everyone involved understands what they should be working towards.

Provide feedback. Mentors should provide guidance and constructive feedback, while mentees should take advantage of this opportunity to develop skills and learn from their mistakes.

Set reasonable expectations. Make sure you're not setting the bar too high or too low.
Overall, an internal mentorship program can be a great investment for any organization. If well-executed, it can lead to increased productivity, greater team bonding, and improved overall morale in the workplace. So don't wait - consider starting an internal mentorship program at your company today! It could be the best decision you make for the future of your people and your business.
Thanks for reading! We'd love to hear about your experiences with internal mentoring below!