Tim Harrington of the Kavaliro California branch was selected as our Employee Spotlight for August, we sat down with Tim and chatted about his goals and his time at Kavaliro. Tim was so charming and had so many great stories we decided the best way to showcase him was by doing a little quick Q & A.
Q: What's your name and your title?
A: I'm Tim Harrington, and my official title is Area Director for the Petaluma West region for Kavaliro Staffing and Project Services, but some call me Boss Man or Timbo Slice which is kinda funny.
Q: Tell us about your hobbies and family.
A: I have two amazing daughters (Avery who will be 11 in November and Eleanor who will be 8 next month) and an amazing wife Stacey. They are all alpha females that keep me in check and on my toes. I've got a
great dog, a Border Collie named Jet, five egg laying chickens, and one useless rabbit named Benny. When I am not at work or hanging out with the fam, I love the outdoors. I try to play as much golf as I can and recently got into hunting ducks and fishing. I'm hoping to hike more, there are some amazing trails up here in Northern California that I want to try.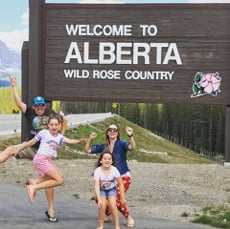 Q: Tell us one weird or unusual hobby you have.
A: Outside of being pretty much addicted to fantasy football, I do like creating things. I wish I had more time to enjoy woodworking. I'm by no means Ron Swanson from Parks and Rec, but I do dabble in making things with my hands from time to time. Give me a few years, and I can build you a custom chair or table.
Q: That sounds amazing, I don't see how that can fail. How long have you been in the staffing industry and how did you end up at Kavaliro?
A: Crafting the perfect match for my clients and candidates is something I have been doing for over 20 years – this past November marked 20 years in the industry. I have been recruiting since before the internet, and that is no joke! (In his old man voice) "Back in my day, I used to rely on my trusty Rolodex to call clients and then used a huge room full of file cabinets, with resumes sorted by skills to find candidates; then I would literally fax the qualified and vetted resumes to my clients! I'd bet you would be hard pressed to find recruiters these days that know what a fax machine is."
How I ended up working with Kavaliro is a pretty great story. Brian Brown approached me about the role that I am currently in, I was hesitant and had a few other offers and one that I was about to accept. When I learned more about the organization and how the Petaluma office was growing, I became intrigued. I flew out to Orlando to meet the Executive team, and the great people in the Orlando branch and I was sold!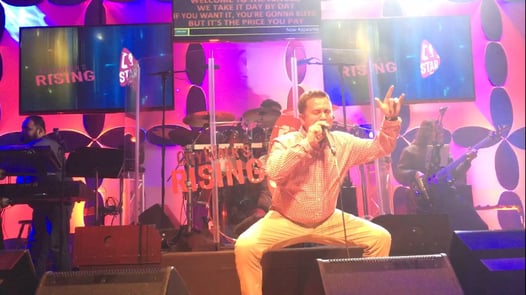 Q: What made you choose to work at Kavaliro instead of taking the other offer?
A: To have the opportunity to build something great and create something special in Petaluma was just too great to pass up. I've always thrived in an environment where job number one was building something against the odds. I love playing the underdog and being part of a small but great team that has the potential to blaze trails with the goal of being something special.
Q: Were there any other reasons that you wanted to work at Kavaliro or anything that made this opportunity unique compared to others?
A: The idea that I get to work with a group of amazing human beings that share the common goal of
making Petaluma great was it for me. The size of Kavaliro was important as well, having the ability to work in close collaboration with Mark, John, and Bill, the owners, was another huge selling point for me. Most regional leadership opportunities don't have that "work in the trenches with the executive leadership/ownership" element. I also really appreciated the commitment Kavaliro made to local community involvement and making an impact to the disadvantaged which is very close to my heart.
Q: Ok, so enough about Kavaliro, tell us the coolest thing about you.
A: I'm a survivor Kati. When I was four years old, I had Open Heart Surgery to correct a potentially fatal heart malady called Tetralogy of Fallot. I don't want to go into the medical specifics because it is kind of boring, but it would be cool to include a link to more info. Essentially my heart was the size of a ten-year-old boy's when I was just three years old. It is kind of cool that I get to say I've escaped death many times and have been beating the odds ever since my surgery.
Q: Do you support any charities or causes?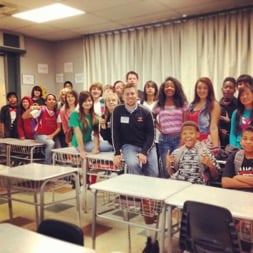 A: I do. There are a few organizations that are very dear to me. I've held a seat on the Board of Directors of "The First Tee of Greater Sacramento" for the past four years now. I was asked as a board member to be an ambassador/liaison for "Angels for Hearts," which started an initiative called "I ♥ Golf" that enables kids with crippling heart defects to enjoy the game of golf. Before my time with The First Tee, I was a two-time board member of the "Active 20/30 Club of Sacramento, " and I'm still an active alumni. I've also been an active volunteer with Junior Achievement for the past five years. I enjoy being a part of Junior Achievement; I get to go take over a classroom of Junior High kids and teach them anything from US/California History, to how to save and invest money. I get to give them the tools they need to be successful in the work world. Also, they laugh at my jokes and think I'm hilarious, so I enjoy that part too.
Q: Tim last question are you ready?
A: Yes!
Q: What are you going to do when you retire? What is your next big dream?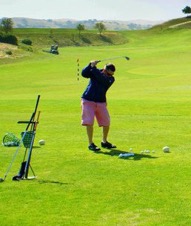 A: I thought you were going to ask a much harder question. I'm not sure I'll ever fully retire, I'm confident that my ADHD won't let me, but when I do "settle down" I'm fairly certain that it will involve carpentry, golf, lots of wine, travel, and TONS of family time. I'd like to take some vocational wood working, and upholstery classes, then take the money I saved to build a storefront in the little village down by my house in Fair Oaks and make and sell craftsman wood furniture in the shop out back. There is something about a well-crafted wood chair with fine leather craftsmanship that really calls my name. I love a great craft beer too, but that's a whole 'nother story. I see a storefront in my future with the sign above, "Craft Furniture and Beer." Other than that, I'm sure my days will involve playing as much golf as I can, spending quality time with my wife, kids, future grandkids and extended family. That is the dream Kati- I hope to live it someday.
---
Have you been working with someone at Kavaliro that you think we should spotlight? Let us know by emailing us at marketing@kavaliro.com and telling us who we should spotlight.