As our Corporate Recruiter, Kelly is one of the first people you will interact with when interviewing for a position at Kavaliro. Her kind, warm, and vibrant spirit is one that you will instantly gravitate towards and Kelly certainly has a way of making you feel right at home. Whether you've known her for a week or have known her for years, Kelly is certainly someone who you'd always want around and on your team. We take immense pride in having a person like her on our side.
When asked about Kelly, Kavaliro's COO Bill Peppler stated, " Kelly is our culture champion, she is an integral part in making Kavaliro such a special place to work. We are very grateful to have her and excited that she was presented with our highest award this year and will be attending our Top Performer trip in May."
"I don't know of anyone else at Kavaliro that summarizes our culture like Kelly does. She really is our people person; every new hire that comes into our company has nothing but glowing things to say about their experience with Kelly and Kavaliro wouldn't be the same without her" Tim Davis our Director of IT said.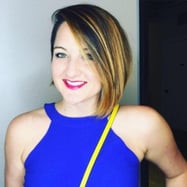 Congratulations, Kelly for being chosen as the Kavaliro Employee Spotlight this month. We are proud to have you be a part of the Kavaliro family and can say with certainty that Kavaliro would not be the same without you!
Have you been working with someone at Kavaliro that you think we should spotlight? Let us know by emailing us at marketing@kavaliro.com and telling us who we should spotlight.