Today, we proudly recognize Jamey Curalli as our August Consultant of the Month! 🎉
Jamey Curalli, a talented Senior OSINT Analyst, is originally from Spokane, Washington but now calls Hawaii home. Having spent the majority of his 20's there, he really grew to love and form a connection with the island and the culture.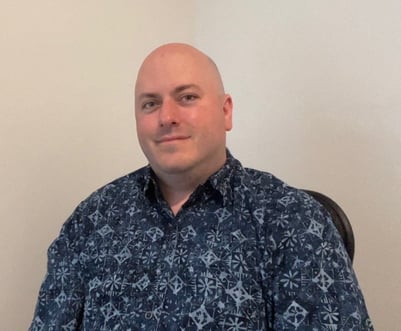 Regarding his role as an OSINT Analyst, Jamey says, "I think my favorite part of the job is working with the people; I get to interact with a wide variety of individuals, all of which are experts in their fields, and the opportunities for learning new skills from them are endless. Being able to exchange ideas and tradecraft with such intelligent people is something that I look forward to when I come to the workplace because I know I'm going to go home that night with a piece of knowledge I didn't have before."
Jamey joined the Army in 2001 as an Intelligence Analyst and it lef to a long career in the field, both in the military and as a contracted analyst. He says, "I really enjoy the research aspect of the job and "being in the know" in terms of world events and I've found that the skills I've learned along the way have helped me not only in my job, but also in my life outside of work. I look back at my choice of career and sometimes wonder what would have happened if I had taken a different path 22 years ago; I can honestly say I'm very happy with where I am and where I've been, and I'd recommend this career path to anyone!"
At the moment, Jamey is focused on learning how to better interact with and manage people. "I've certainly overseen teams in the past and I think that many would say that I'm a decent manager; but I think there is always room for improvement - especially when it comes to being a true leader of people. My current position lets me hone those skills and better relate to and communicate with those under my charge. I've learned more about trust, communication, and transparency in this position than I think I have anywhere else."
In his spare time, Jamey enjoys a variety of hobbies including hiking, retro video gaming and writing. He is especially fond of learning. Jamey says, "many of my nights are spent researching history or science subjects to fulfill my curiosity. I'm also deep into genealogy and have traced my family history back to the early 1600s. I think the most interesting part about it isn't necessarily the family facts, but more the context surrounding their lives. Understanding why a person changed locations or fought in a specific war adds a much greater depth of understanding to the past and how my family fits into it."

A fun fact about Jamey, he is exceptionally skilled at foosball, a hobby he picked up from his father. "My father was great at it, and when he purchased a table for our house when I was a teenager, I picked it up pretty quickly. After years of playing, I can confidently say that I'll challenge and beat just about anyone! I also can play the drums and was in a couple of bands back in my teenage years. I still carry rhythm with me today - you can usually find me by just following the sound of finger and foot tapping at my desk.
Congratulations to Jamey once again for being our August Consultant of the Month! We are grateful to have a brilliant individual on our team!
Know someone who deserves to be spotlighted? Email us at marketing@kavaliro.com!