Kavaliro wants to congratulate our September Consultant of the Month, Regina Frazier! 🎉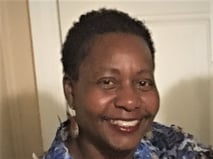 Kavaliro is proud to recognize Regina Frazier as our September consultant of the month! Regina works as a Technical Specialist with one of the largest electric power holding companies in the United States. What regina enjoys the most about her job is that she is always busy, has a team stacked with great individuals, and if there is ever a question, all the engineers are approachable and happy to help.
Regina, is originally from the " City of Oaks", Raleigh, NC. Some of Regina's hobbies include traveling, watching the NFL games (Die-hard Dallas Cowboy Fan), and spending time with her family. She met her husband in middle school and they've been married for 33 years now. Together, they raised two children and she is now blessed with a 3 1/2 year old granddaughter that she loves to spoil! Since Regina really values family, she prioritizes planning nice family get-togethers for every occasions. Not only is Regina a great member of her family, but a great member of her work team!
We want to thank Regina for always exemplifying Kavaliro's values and mission.
Congrats again on being
September's Consultant of the Month! 🏆
Check out more of our Consultant of the Month Spotlights!

Know someone who deserves to be spotlighted?
Email us at marketing@kavaliro.com!