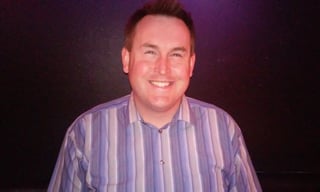 Kavaliro would like to recognize Justin Day as the January's Consultant of the Month! Justin is a compliance analyst for the company; he works in financial services in the Orlando, FL area. Justin is responsible for reviewing large sets of files in the banking and mortgage industry.
"Justin has an infectiously positive attitude and is a true pleasure to work beside. He has an incredible reputation with our clients and his peers; he has been invited back several times specifically by the client due to his work ethic," said Kelly Babb, Resource Manager at Kavaliro. "Justin is the exact kind of person we want on site with a client to represent Kavaliro."
Justin Day grew up in Cleveland, OH before moving to Orlando. He loves the warmer weather and all the theme park activities that Orlando has to offer. Justin has been with Kavaliro for over a year and has enjoyed working on multiple different contracts. In his spare time, he enjoys photography and spending time with his two dogs Lucky and Rascal.
We would like to say thank you, Justin, for always representing Kavaliro so well and being an advocate for our team. You are a pleasure to know and partner with, and we look forward to continuing working together.
Kavaliro Employment Agency has offices in Tampa, Fla., Charlotte, N.C., Orlando, Fla., Washington, D.C., Jacksonville, Fla. and Petaluma, Ca. and can make sure you find the right people for any important role. We are ready and waiting to help you anytime and look forward to hearing from you. Connect with us on Facebook, Twitter, and LinkedIn.