Kavaliro would like to recognize Yorleni Mesa as the March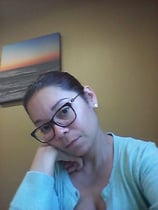 Consultant of the Month! Yorleni is a Bilingual Customer Service Representative; she works in the communication industry in the Winter Park, FL area. She is responsible for conveying valuable information to others through a digital platform while often translating from one language to another.
"Yorleni is the perfect example of a Kavaliro employee. She is always looking out for what is best for the client and keeping me informed as to what is going on. She always has a smile on her face and willing to help the client and co-workers," said Lee Clamon, Resource Manager at Kavaliro. "Yorleni was the first Kavaliro employee with this client, and she was the best choice for our first impression. She always puts in 150% in her work."
Yorleni has been with Kavaliro now for roughly six months, and we are looking forward to working with her for much longer. We would like to say thank you, Yorleni, for representing Kavaliro and being a part of our team. You are a pleasure to know and partner with, and we look forward to continuing working together.
If you are thinking about contract work, take a peek at our blog 4 Reasons Why a Contract Position May Be Right For You or request a free consultation, and we will be happy to assist in your job search!