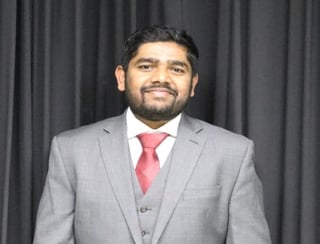 Kavaliro would like to recognize Avinash Reddy Muthyala as December's Consultant of the Month! Avinash is a remarkable consultant for the company, working as a Programmer Analyst in the Chevy Chase, MD. area. He is responsible for developing and supporting application deployment and software configuration management.
"Avinash has always been an incredible asset as a consultant for Kavaliro. He is continuously representing our pillar of authenticity," said Tim Davis, resource manager at Kavaliro. "His exceptional attitude towards whatever he is faced with makes it a pleasure to work with him and see him grow within the industry."
Born and raised in a small village called Nirmal in Telangana India, Muthyala loves spending time with his friends and family. He enjoys himself most when he is relaxing with his parents. Avinash has taken inspiration from his father since childhood. He believes in hard work and has achieved a lot of accolades in his college and university.
In his free time, you can find him playing chess or cricket with good friends. He also enjoys dancing, and someday he would like to become a professional dancer. Dancing is what Avinash considers to be his favorite hobby and is looking to pursue it more in the future!
We would like to thank you, Avinash, for always representing Kavaliro so well and being an advocate for our team. You are a pleasure to know and partner together!
Kavaliro Employment Agency has offices in Tampa, Fla., Charlotte, N.C., Orlando, Fla., Washington, D.C., Jacksonville, Fla. and Petaluma, Ca. and can make sure you find the right people for any important role. We are ready and waiting to help you anytime and look forward to hearing from you. Connect with us on Facebook, Twitter, and LinkedIn.