On a scale of one to ten, how was your most recent annual review? Was it valuable? What kind of insight did you gain from your review? A lot of people really dread going in for their yearly review, but in reality, your review should be valuable to you as you head towards your professional goals.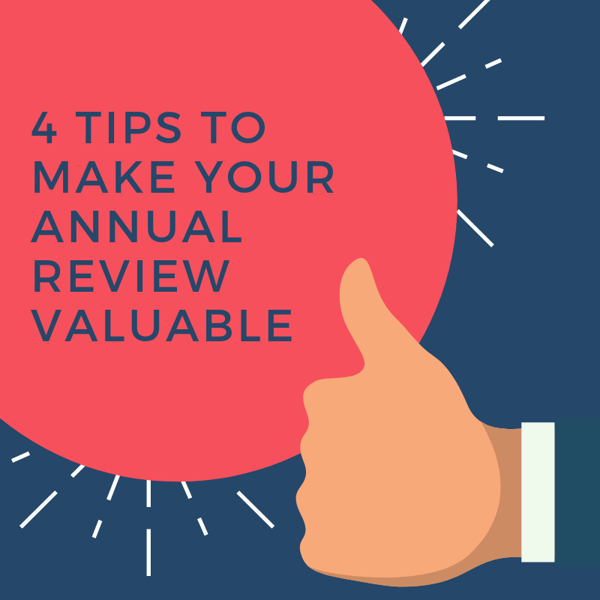 One of the reasons people hate annual reviews is that you don't get feedback. There are pats on the back and things to improve upon, but those two things alone do not make for a full, well-rounded review. Another problem with reviews is that the brain naturally wants to elevate the positive and work to decrease or hide the negative. Here are four ways to make the most of your next annual review.
1. Have the right mindset
Getting your head in the right space before heading into a review will ensure things go smoothly. Your goal should be to get as much feedback as you can out of your meeting. Prior to your review try to minimize excess stress and distractions. Doing this will ensure you are able to keep an open mind to any and all feedback. Be ready to gather the information you need to take your career to the next step!
2. Have a Plan
Before going to your review, have a plan. Some companies will ask you to fill out a review survey or provide information in advance of your meeting. If your company does not, make a list of all that you have accomplished, what you hope to accomplish, and what your career goals are. Make sure that as your review progresses, you make a note of all the things you need to do to achieve your overall goal.
3. Be Thankful
While annual reviews can seem like a chore for your managers, in all reality, they are stressful for both parties. Remember that your manager is a person who wants to see you succeed. Having to tell an employee what their perceived weaknesses are, takes a lot of courage. Be thankful that they are providing you with honest feedback, even if it is hard to hear. Also, make sure that you are continually asking yourself, "how is this feedback true?".
4. Follow up
Post review, take some time and soak in the information your managers have shared with you. Measure the progress you have made against what your goal is and start to make the changes needed so you can be successful. A last thought... consider sending your manager a thank you note!
During and after your review, be ready and willing to accept feedback. Remember, it is up to you to make the most of your annual review!