You just got the news; your company has been sold! Often this is an exciting but scary time for employees as the two companies start to become one. Here is what you need to expect post-sale and how to be successful during the transition.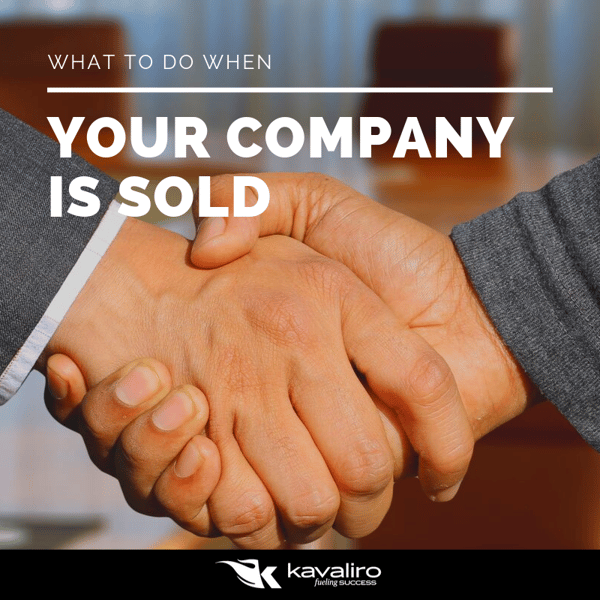 1. Be Prepared
First impressions are everything; do your homework. One of the biggest pieces of advice we can offer is to start learning about your new owners ASAP. Find out why your company was sold, what prompted the sale, and who the important players are.
Change is going to happen fast. Make sure you tap into your professional network and start asking questions. If you can find out what the new owner's priorities, expectations, values, and business customs are, you will be more likely to succeed.
Think about the sale of your company like you would a job interview. You want to learn as much as you can about the company before your company fully transitions with the purchasers.
2. Don't Panic
Just because your company has been purchased does not mean that your job is going to be eliminated. For a while, you might have two administrative assistants, and two CEOs and maybe even two people in your role. Is it granted that you will have a job post-transition? No, but that you should be aware that people will be let go because of "redundant headcount", so be ready.
There are a few ways that a transition can go. Slow and steady where it takes your company months to make the transition or fast and furious where you find yourself looking for a job within the week.
No matter what, take this time to get your ducks in a row. Refresh your resume, evaluate your career goals, build your skillset, and prepare for the worst (but hope for the best).
3. Breath
Ugh, is probably what you are feeling right now. You have put so much time, and energy into this job, and all of a sudden, everything is changing. Take a breath and embrace the change. If, after a little bit of time, you are finding you don't like the direction the company is going it then start looking for something else. Our best advice if you want to keep the job is to embrace the change being passed down and to use this transition as an opportunity to show your value to your new owner.
No matter what happens when your company is sold, know that everyone is going through a transition phase on both sides of the sale. Things are bound to get lost in translation or shift as time goes by, but you should be ready for change (because you did your homework)!