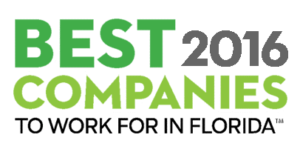 Another big win for Kavaliro this year! Florida Trend's Best Companies To Work For recognized Kavaliro as No. 7 on this year's "Small Companies" list. This is the fifth year in a row the staffing agency has been recognized within the publication's award. The annual Best Companies list will appear in the August issue of Florida Trend magazine.
"We are honored to be recognized as one of the Best Companies To Work For, for the fifth year in a row," said Bill Peppler, managing partner at Kavaliro. "We truly value our employees and work hard to create a happy work environment for everyone. It's important for us to continue building a workplace people want to be at on a daily basis."
To participate in this award, companies or government entities had to employ at least 15 workers in Florida and have been in operation for at least one year. Companies that chose to participate underwent an evaluation of their workplace policies, practices, philosophy, systems and demographics. The process also included a survey to measure employee satisfaction. The combined scores determined the top companies and the final ranking.
The Best Companies To Work For In Florida program was created by Florida Trend and Best Companies Group and is endorsed by the HR Florida State Council. Best Companies Group managed the registration, survey and analysis and determined the final rankings. To see the full list of the 100 Best Companies to Work For In Florida, you can check it out here!
Staffing agency, Kavaliro, has offices in Tampa, Fla., Charlotte, N.C., Orlando, Fla., Washington, D.C., Jacksonville, Fla. and Petaluma, Ca. and can make sure you find the right people for any important role. We are ready and waiting to help you anytime and look forward to hearing from you. Be sure to check us out on Facebook and LinkedIn for more professional tips and tricks.