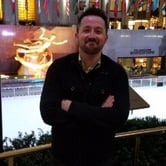 Kavaliro has a fantastic team, and it is always a challenge for us to pick an employee spotlight. This month we are excited to recognize David Gilcher from the Kavaliro Orlando Branch. David is a Service Delivery Manager and has been with us for nearly five years. "It has been quite the journey watching the company evolve," he said, but we could not have done it without him!
"David has been a key leader of the Orlando branch for the past five years. He is constantly open to training and developing new and existing team members. He is always consistent and has been a great source of knowledge for the entire Kavaliro team. We're lucky to have such a committed member of the team," said Noelle Williams, Director of Recruiting.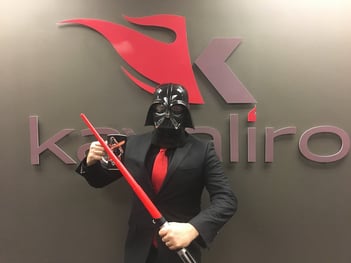 When not at work, David can be found enjoying any and everything Sci-Fi with his wife and two daughters and attending conventions with them. He enjoys video games and dance (he has been dancing since 10); he finds both to be an escape. David is also on a quest for knowledge: he enjoys history, science research, and politics. He has been called the "Google" of the Orlando office and is the person we generally turn to when we have a question. "I wouldn't personally call myself that (the Kavaliro Google), but it would totally be cool to have that level of knowledge," said David.
David also spends lots of his time volunteering with Kick Off For Kids, United Way, Boys & Girls Club and Harbor House. He feels that kids and families, in general, deserve shelter, food and an environment free of violence. These three key pillars are fundamental to David because of his childhood.
David attended the University of Phoenix and has been in staffing for twelve years. He has worked in a variety of different types of staffing in both corporate and agency staffing. David joined Kavaliro after a co-worker at a previous agency he worked at joined the Kavaliro team. When David retires, he plans on traveling with his wife and exploring the world.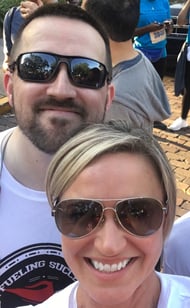 We asked David if he has any additional comments he wanted to share with us, and he has this to say, "I've had the pleasure of working with amazing people throughout my time here at Kavaliro. It's been incredible to work with a team that no matter how low or high things are, we continue to motivate each other while keeping each other humble and accountable. It may sound cliché, but this is the first staffing environment I've been in that felt like family. I'd consider myself the crazy yet wise uncle".
Kavaliro's COO, Bill Peppler said "David has been a valuable asset for the Kavaliro Orlando team for many years. He has so many responsibilities and duties and always performs admirably. I am proud to have David on our team every day. "
Congratulations, David for being chosen as the Kavaliro Employee Spotlight. We are honored to have you as a team member and grateful for all you do.
Have you been working with someone at Kavaliro that you think we should spotlight? Let us know by emailing us at marketing@kavaliro.com and telling us who we should spotlight.