Everyone should have a LinkedIn profile these days, no matter if you are a roofer or a CMO you need a profile. As a staffing firm, we review a lot of LinkedIn profiles every day and compiled some tips on how to make your profile stand out.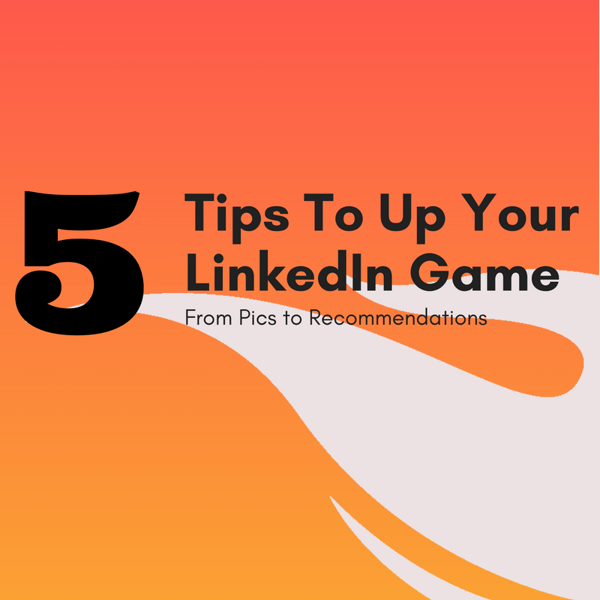 1. Your Picture and Header
First impressions are everything! You MUST have an on-point profile picture and header image.
A Few Don'ts:

No car selfies- these make you look unprofessional. Simple solution, find a friend to take a photo of you or use a selfie stick. Go for a blank or distraction-free background.
No kids- LinkedIn is a professional networking site. Don't open your self up to discrimination by including a picture of your kids and family.
Not having any Images- Not everyone is comfortable having the headshot on LinkedIn, and that is more than fine. A solution is to create a logo for yourself or use your current company's logo. Same goes for header photos.
This is Louis Douglas, Business Development Manager at Kavaliro's profile.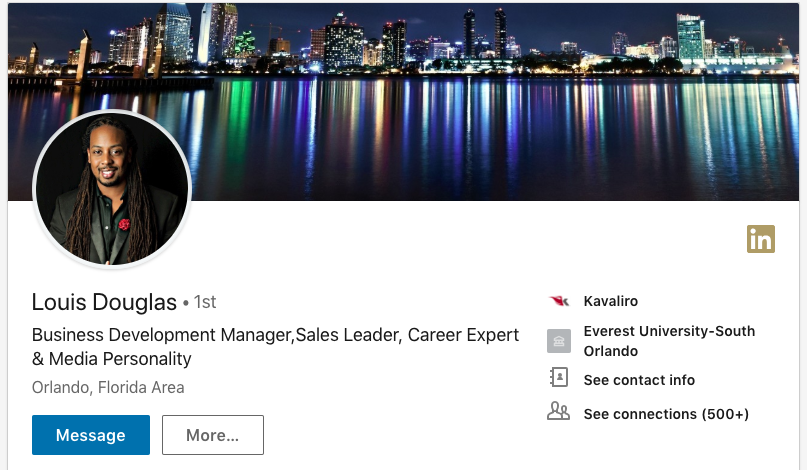 Louis is building his brand image through his choices in this profile. He has selected a cityscape as his header photo and a picture of him in a suit. These choices tell you a log about Louis.
2. Don't neglect your profile
You may be more than happy with your current company and in your current position, but that is no excuse not to update your profile consistently. Neglecting your profile has two problems. First, when you do decide to go looking for a new job and do a massive update on your profile, it can signal to your current employer that something is up.
The second problem, you will not be found. Think about it your friend John is talking about this fantastic project you just completed for his company to his buddy Dan. Dan realizes that he could use you as a consultant for a project he has. Dan hops on LinkedIn, and your profile has not been updated since 2010. Dan decides to keep looking for another consultant because he could not verify any of your work.
3. Keep your wording clean
We get that it is hard to water down all the things you did at your previous jobs. Keeping your profile clean is vital. Only put information on your profile that help build your brand and are critical to your next position.
Robin Kalinowski, Resource Manager, Perm Division at Kavaliro has done an excellent job at this.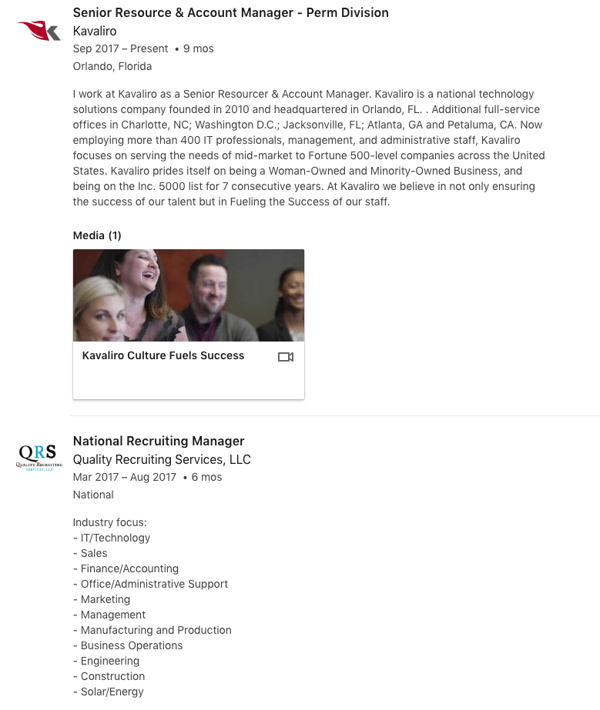 When you look at Robins profile, you will see that she has a brief description of what she does at Kavaliro and a little bit about the company listed in her description. She avoids using statistics or bosting to much. In her previous role, she has listed all the industry she has staffed for. Notice that Robin has not included any information like "I occasional stamped letter for our annual Holiday Cards" or "I file paperwork as needed." Neither of these things is useful for Robin when getting another job (which we hope she doesn't) or in building her brand.
4. Brag about yourself
LinkedIn has an accomplishments section for a reason. This section is a place where you get to brag about yourself and highlight the work that you have done.
Check out my profile (Kati Watson); I have listed my publications, the languages I speak and my certifications. Why is this important? Well, say someone is looking for a freelancer to write an article on their struggles with dyslexia for a magazine article (speaking of check out my blog on dyslexia). They can see samples of my work, and find links to those articles right from my LinkedIn profile.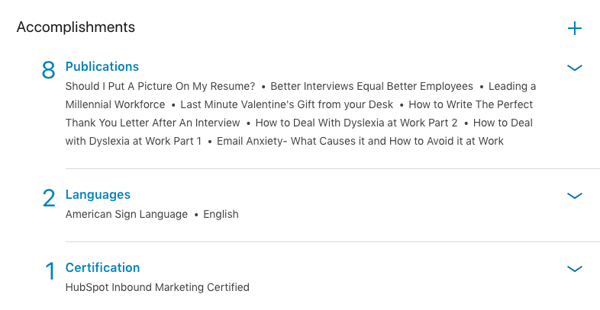 Pro Tip: This is a beneficial section to fill out if you are in the tech industry. Listing your certifications is an easy way to get noticed by recruiters.
5. Get some recommendations
We are going to go back to Robin Kalinowski profile here for a second. She has 62 recommendations! What exactly does that mean? It means she has 62 people have essentially vouched for her in a variety of different ways. So if Robin reached out to you on LinkedIn when you go to her profile, you could see that she is the real deal not some flyby night staffing professional.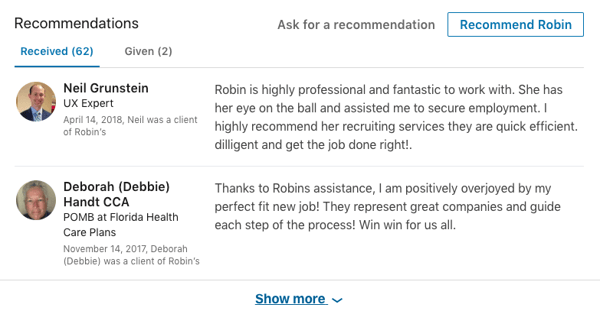 These recommendations add validity to who you are and give merit to your professional accomplishments. To get recommendations, we suggest giving recommendations or just asking for them! Most people will be happy to provide them if they know they will be getting one in return.
Remember your LinkedIn profile is an extension of who you are. Often companies and recruiters will see your profile before they see you so make sure you are putting your best foot forward before you even walk in.