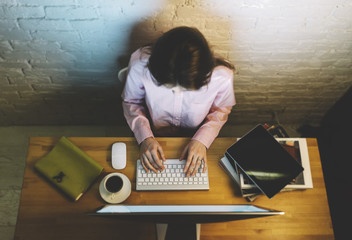 There is no way around it Staffing Agencies exist and will continue to, as long as companies are hiring. If you are a mid-level Android Developer, there is a 99% chance someone has called from a tech staffing agency asking if you were looking for a job. So when you get all of these calls how do you know if the person calling you on the line has your best interests at heart. Here are the top 3 reasons you should trust staffing firms, specifically IT staffing companies.

1. You Make More They Make More

Staffing is not a shell game; a recruiter is not going to call you and talk you down from a reasonable salary point. The more you make, the more the recruiter can make (depending on if the company has a commission structure). When trustworthy recruiters get their initial training, they get an in-depth course on market trends based on geographical location. The training they receive ensures that they, as a recruiter understand that a Director of Finance in Jacksonville, FL will make around $80K while one in Parsippany, NJ will make around $100K. In fact, not only do they know the numbers but also know why! In this instance, the cost of living in Parsippany, NJ is significantly higher than the cost of life in Jacksonville, FL. It is the kinds of little details that make all the difference when finding the right job. A recruiter knows the clients they are staffing for and yes as much as they want to put you in for a job at $100K they also know the hiring manager will pass over your resume. There is a delicate balance that a recruiter can help maintain. For more information on recruiters check out our blog post Recruiters Can Be the Key to Your Job Search.

2. One Company Lots of Jobs

Instead of searching for jobs on your own a specialized recruiting firm like an IT staffing firm can do some of the work for you. When an agency specializes in a particular focus, it means they staff a lot of similar jobs. So say you are a Front End Developer with three years' experience. Instead of doing a lot of research on your own an IT staffing firm may already have three positions they are trying to fill that are all similar to your skill set. That means you practically are considered for three jobs all at one time. You may not get three interviews, but you get inside knowledge as to what companies are looking for, interview and resume tips, and personal attention. Say a tech staffing agency does not have any Front End Developer positions they are trying to fill when you call that does not mean you are out of luck. An IT staffing firm will hold on to salary expectations, your resume, and any other information you provide them. As soon as a position becomes available that they think you may be a fit for they will call or you can call them if a job you want pops up (check out our career notifications to keep your eye on what we are staffing for).

3. It is Personal & Business

Smaller specialized staffing firms have a very customer centric approach. At Kavaliro we routinely call people we placed two years ago just to check in and see how things are going. These firms do care about the success of the people they find jobs. Often they go above and beyond to assist with finding resources for relocations, motivating individuals to go further in their education, and even becoming close friends. IT staffing agencies are no different. They have a vested interest in seeing you and the tech community around them grow (check out America's Fastest-Growing Cities 2017 Forbes). Who knows they may tell you to go to a tech meet up where you end up finding your dream job.

---
If you find that your job search has hit a bit of a brick wall, it may be time to find a staffing firm. Check out our free consultation; we will be happy to assist you in the search for the right staffing firm!